Be Mindful about feeling good about ourselves.
Mrs Good, our School Counsellor and Play Therapist reports on the importance of mental health and a positive body image.
'The UK Mental Health Awareness Week took place in the week of 13th – 19th May. Hosted by the Mental Health Foundation, Mental Health Awareness Week's theme this year was Body Image. Body image is a term used to describe how we think and feel about our bodies. It's a relatively common experience and not a mental health problem in itself. However, it can be a risk for mental health problems. Research has found that higher body dissatisfaction is associated with a poorer quality of life, psychological distress and the risk of unhealthy eating and eating disorders.
An online survey by the Mental Health Foundation with YouGov in March 2019, of 4,505 UK adults aged eighteen plus, and 1,118 GB teenagers aged thirteen to nineteen highlighted that just over a third of adults said they felt anxious or depressed because of their body image, whilst one in eight experienced suicidal thoughts. Among teenagers 37% felt upset, and 31% felt ashamed in relation to their body image. Just over 22% of adults and 40% of teenagers said images on social media caused them to worry about their body image.
Whilst industry, including social media companies and fashion, need to take responsibility, and legislation and other agencies could do much to address harm relating to the promotion of unhelpful or idealised body image, there are things we can do individually. The Mental Health Foundation suggests the following:
If you are unhappy about your body image and it's a significant cause of stress, consider talking to a friend, trusted adult or health professional before you start extreme dieting, thinking of cosmetic surgery, taking supplements or having thoughts of self-harm. There are organisations you can contact that offer confidentiality.
Uninstall apps on your smartphone that cause you to feel unhappy and stressful in relation to your body image when viewed.
Consider muting or unfollowing accounts or hashtags that make you feel negatively about your body or appearance, or encourage comparing yourself unfavourably to others. Be mindful of the impact of your posts to others.
At home parents and carers can lead by example, by modelling positive behaviour around body image, eating healthily and staying active. Be more aware on a day to day basis how we speak about our own and other people's bodies whether criticising your own or others' appearance or placing unrealistic expectations on how people look. Support your children to express their emotions and communicate their feelings about their bodies.
Language, even in casual conversation, has an impact. Comments such as, 'I feel fat today,' or, 'You look fantastic. Did you lose weight?' may seem harmless but can reinforce the idea that youth and being slim is the essence of beauty and success.
If you see an advert in a magazine on television or online that you think presents an unhealthy body image as aspirational you can complain to the Advertising Standards Authority.
Find a way of keeping active that suits you best and that you enjoy. It's not a matter of overdoing it but feeling better about ourselves in a healthy way.'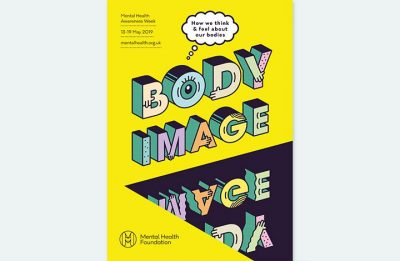 Also, as part of this annual event, celebrity baker Nadiya Hussain, actor David Harewood, and journalist, broadcaster and former political aide Alastair Campbell candidly spoke about their respective struggles with anxiety, psychosis and depression in recent one-off BBC One documentaries.
Approximately one in four people in the UK will experience a mental health problem each year. In England, one in six people report experiencing a health problem such as anxiety and depression in a given week (mind.org.uk). In 2017 in England, one in nine children aged five to fifteen had a mental health problem. When children aged five to nineteen were included this showed that one in eight had at least one mental disorder. This increase from the previous 2004 survey was largely driven by an increase in emotional disorders, including anxiety and depression, which for five to fifteen year olds rose from 3.9% in 2004 to 5.8% in 2017 (NHS Digital: Mental Health of Children and Young People in England, 2017).
The reasons behind mental disorders are varied with some groups in society being more likely to be affected by them than others. Amongst these are children living in lower income households, children whose parents are in receipt of low income benefits, and those who are experiencing challenging life situations such as parents separating or having financial difficulties.'
Categories:
Junior
Nursery
Prep
Priory Post
Senior
Sixth Form
Whole School