In celebration of Diwali
On Friday 6th November we were delighted to welcome dancers from The Bhavan, the Indian Arts Centre in West Kensington. They were here to introduce to us the feast of Diwali, also known as the Festival of Lights, which marks the beginning of the Hindu New Year and this year begins on Wednesday 11th November.
Bhakti Patel, Upper V Alpha, gave a very informative presentation at Senior Assembly on Diwali and we then saw some beautiful and moving dances from Parvati and Katrina from The Bhavan. After the Seniors had enjoyed the presentation and the dancing in their Assembly, the Juniors followed suit.
Bhakti explained about the feast of Diwali:
'The word Diwali, also known as Deepawali, means 'rows of lit lamps'. Diwali is known as the 'festival of lights' because houses, shops and public places are decorated with small clay oil lamps called Diyas. Diwali is a five-day festival, each day symbolises different elements of the whole feast.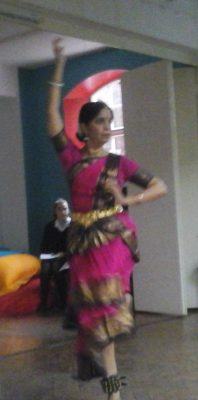 We celebrate Diwali to honour the day when Lord Rama returned to his kingdom after fourteen years. On the day Lord Rama returned there was a moonless night. In order to light his path in the pitch black, the citizens lit Diyas (small oil lamps), lighting up the city in divine majesty. The festival celebrates the victory of good over evil, light over darkness and knowledge over ignorance.
For Sikhs, Diwali is particularly important because it celebrates the release from prison of the sixth guru, Guru Hargobind and Sikhs celebrated the return of Guru Hargobind by lighting up the Golden Temple.

In Gujarat, Diwali is associated mostly with the worship of Lakshmi the goddess of wealth.
People celebrate Diwali in many ways – by cleaning their home, wearing new clothes, exchanging gifts (often sweets and dried fruits) and preparing festive meals, decorating buildings with fancy lights, huge firework displays, praying,, giving food and goods to those in need and making a Rangoli, patterns or designs on the ground'.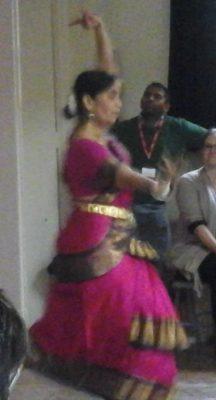 We would like to thank Bhakti and the representatives from The Bhavan for a wonderful introduction to Diwali. If anyone is interested in learning Indian dance, please contact The Bhavan centre, which runs classes in this inspirational art form. They are at 4a Castletown Road, West Kensington, W14 9HE. Web: www.bhavan.net
Categories:
Whole School