"Berkoff allowed me to realise the power of imagination and therefore stylised performance, as he said, 'naturalism is only a blue print of life'", Ljiljana Krneta
Ms Brown, Head of Drama, tells us why attending a talk by Steven Berkoff with A Level Drama students this week will inspire and influence their work.
"A Level Drama students Sevanah Hazarian, Katrina Richardson, Ljiljana Krneta and I attended a Platforms talk by Steven Berkoff at the National Theatre on Monday 2nd October. In his 80th year, the ground-breaking playwright, actor and director reflected on his career in conversation with Geoff Colman.
I was thrilled by Berkoff's excitement about theatre as unique forum for scrutinising humanity. He considered his approach to writing for theatre as an attempt to reach the inner soul of a person, rather than to reproduce society; a concept related to naturalistic plays. He felt that most traditional theatre was rather narcissistic in its realistic reflection and, although it had its place, he felt it was not as moving and significant as non-naturalistic performance.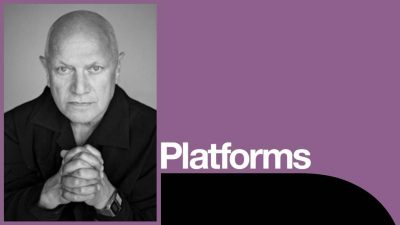 Katrina was struck by his comment that, "society loves the mirror, lives for reflections, but hates to look behind the eyes." He suggested that the best plays heat as they progress leading to an effervescence, which is absorbed by the viewer who is in some way transformed. Berkoff was inspired by the rich and fantastical literature of Kafka amongst others, and found his stories fascinating and bursting with extraordinary imagination. He praised Oscar Wilde's writing in Salome, a play which Berkoff's company had staged in slow motion, and bemoaned why it was The Importance of Being Earnest that was always revived.
Berkoff entertained us with his storytelling, re-enacting moments from Metamorphosis and imitating theatre directors. He was also rather sad about the state of the management of London theatre and how it now seems to be monopolised. He complained about how now it is impossible to rent a theatre and so our theatre experiences are being limited by the choices of a few rich businessmen. He hailed the Edinburgh Festival as the forum for actors and new talent, as it was freer of the shackles of producers and business. Finally, he praised Joan Collins' performance in his film Decadence, which has inspired me to seek the film out.
It was utterly enthralling to hear from an innovator of British physical theatre first hand, and this rare experience should inspire the A Level Drama students to create devised work truly influenced by his vision, now they have heard from the man himself".
Categories:
Sixth Form
Whole School