Exploring the ancient world
London is fortunate to be full of wonderful venues with a multitude of educational resources on offer to supplement the curriculum. Lower IV enjoyed a visit to one of these venues when they participated in a tour of several of the galleries at the British Museum on Friday 9th June. Mrs Griffiths organised a walking route through several periods of history: Egyptian, Mycenean, Greek, Roman, Roman Britain and Anglo-Saxon. Mrs Griffiths commented, 'This was a very successful visit, highlights of which were the Elgin Marbles, the Rosetta Stone, the Halicarnassus mosaics and the treasures from Sutton Hoo'.
Sennen Powell from Lower IVA relates her experience of the day:
'On Friday 9th June we went by tube on a visit to the British Museum. We were split into groups and I was in Mr Green's group (the Green Squad!) along with Lucy, Tia, Siya, Sofia and Isabella. We were given little booklets which we were expected to complete during the visit (unfortunately, Lucy lost hers in under a minute of receiving it!). When we arrived at the museum we had a group photo between the columns at the front of the building. After we managed to gather everyone we then split up into our groups and went off into the museum. First we went into a room with octopus pots and gold jewellery. Next we went to see a very famous pot called the Sophilos Dinos which depicted the marriage of Peleus and Thetis. Mrs Griffiths said that these pots used the black and red-figure technique which enabled the decorations on these pots to last for hundreds of years. We also had a photo competition so everyone had their cameras out snapping away.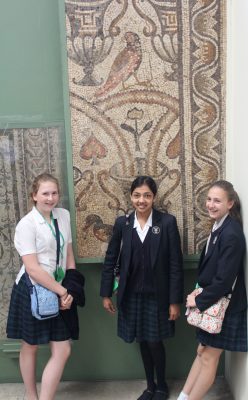 Some more highlights were when we saw the friezes (sculpted stones which depicted the celebration of Athena) covering the walls and Greek sculptures from the Parthenon. We then went to see the Rosetta stone around which many people were crowded. The inscriptions on the Rosetta stone are written in Greek and Egyptian. We also went to see statues of the Roman emperors, originally used to help people know who their emperor was.
Afterwards we went to look at the Greek and Roman lifestyle section where we aimed to spot the eleven differences between a picture and an actual vase (I'm afraid that I only managed to spot six). Towards the end of the visit, after looking in some more rooms, our groups were allowed to go anywhere we wanted for twenty minutes. Our group went to look at various old fashioned clock designs before heading outside to eat our lunch. When we had finished eating we were allowed to go to the gift shop and then meet back at our meeting point. Finally, after everyone was accounted for, we set off home again. Overall, the British Museum was a great day out and I really enjoyed it.'
Categories:
Senior
Whole School