A Senior Triumph
Mrs Bennet, Head of Maths, leads us through the recent Intermediate Maths Challenge, a national competition organised by the United Kingdom Mathematics Trust.
'Brachycephalus frogs are tiny − less than 1 cm long − and have three toes on each foot and two fingers on each 'hand', whereas the common frog has five toes on each foot and four fingers on each 'hand'.
Some Brachycephalus and common frogs are in a bucket. Each frog has all its fingers and toes. Between them they have 122 toes and 92 fingers.
How many frogs are in the bucket?
This is one of the questions faced by 60 girls from Upper IV, Lower V and Upper V in this year's Intermediate Maths Challenge.
Some of them were a little baffled by the questions as you can see from this picture: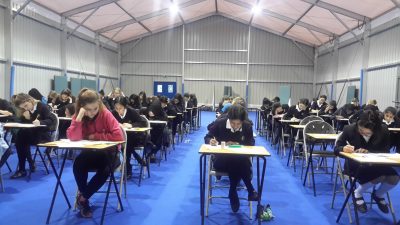 Nevertheless, out of 60 participants, 28 achieved certificates which is the best tally we've ever had at this level.
The results were:
Gold and Best in School to Francesca Tyrer (Upper V)
Gold to Woon Sim Tan (Lower V)
Gold to Naomi Jeffries (Upper IV)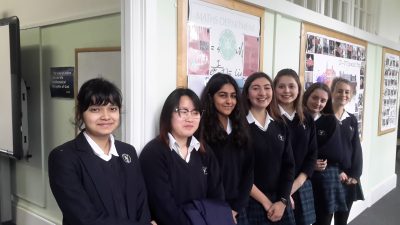 Silver to:
Rosa Maria Lyne Hall (Upper V), Frankie Malinowski (Lower V), Aarthi Navarajasingham (Lower V), Mariella King (Lower V), Rin Aota (Upper IV), Suzuka Notani (Upper IV), Katie Fung (Upper IV) and Jasmine Cabraal (Upper IV).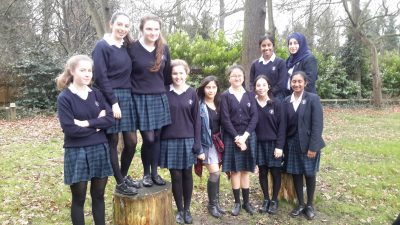 Bronze to:
Upper V: Indrani McClunie, Agata Krynska, Josephine Hoesel, Aditi Jadhav, Yuxuan (Isabella) Ju, Katya Beniatian, Alekia Gill, Charlotte Higham.
Lower V: Hana Moattar, Dalia Al Baghdadi, Amanda Ruiz, Mari Phillips, Selina Kanathigoda, Mariam Salem,
Upper IV: Simran Bagga, Elizabeth Higham, Mehru Mittal.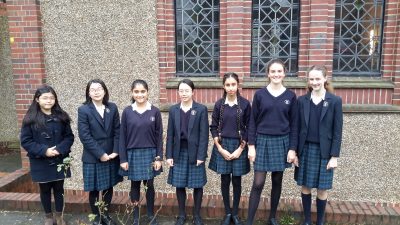 Not only have we broken our own record for the number of certificates this year, the girls have surpassed themselves in getting through to the next round. The European rounds (called the Kangaroo) are at two different levels. The Grey Kangaroo is for Upper IV, and the Pink Kangaroo is for Lower V and Upper V. Francesca Tyrer is through to the Pink Kangaroo, and there are three qualifiers from Upper IV, namely Naomi Jeffries, Rin Aota and Suzuka Notani. This round will be held on Thursday 16th March, in school.
If that wasn't enough Maths, four girls from Upper IV and Lower IV will be competing in the Team Maths Challenge on Friday 17th March in Croydon: Naomi Jeffries and Katie Fung from Upper IV and Siya Sehgal and Kyoka Iwami from Lower IV.
(And if you're still wondering about the frogs, there were 15 of them in the bucket!)'
Congratulations to all on these wonderful results!
Categories:
Senior
Whole School