Upper VI student elected
We are delighted to announce that Pervin Kaur, student in the Upper VI at St Augustine's Priory, has recently been elected the new Youth Mayor for Ealing.
Pervin said that, 'Being Youth Mayor for Ealing is giving me a platform to be the voice of youth, to advocate our views on an efficient level and by having access to local decision makers.'
Having for several years served as an Ealing Youth councillor and also a member of the Ealing Youth Parliament, Pervin has a great deal of experience and seeks to utilise this in her work this year.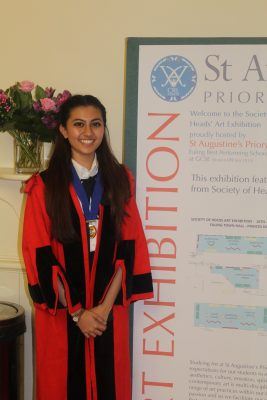 The new Ealing Youth Mayor will be working on several issues including a resource pack for PSHEE in schools on the issues of mental health, female genital mutilation, sex education, politics and finances. This pack will include lesson plans for teachers. On the issue of youth unemployment Pervin will be working on the forthcoming Ealing 100 in 100 programme, which will seek to see 100 apprenticeships given to 100 young people in 100 days.
She will also be fundraising for The Little Princess, a charity which provides real hair wigs to children across the UK and Ireland who have lost their own hair through cancer treatment.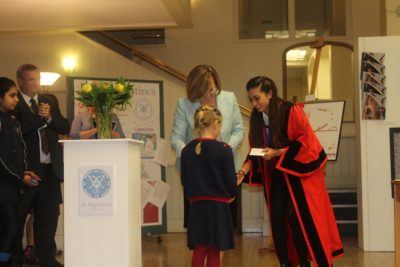 Headteacher of St Augustine's Priory, Mrs Sarah Raffray, commented, 'This school has a long history of treasuring the democratic process, including one of our nuns being a suffragette over one hundred years ago, and we actively promote pupil voice and the positive representation of young people in the public arena. For three years running we have had members of our Sixth Form represented in the Ealing Youth Parliament and we are all delighted Pervin has achieved this most prestigious role. Such good news surrounding the importance of the democratic process is especially vital given global events.'
On Monday 16th November, Pervin Kaur attended the opening of the Society of Heads Art Exhibition 2015, a display a selection of GCSE and A Level artwork from schools around the country held in Ealing Town Hall. The exhibition is hosted by St Augustine's Priory and a Private View and reception marked the opening of the three day exhibition in the Princes Hall, Ealing Town Hall.
Pervin attended as Mayor and accomplished her duties with great success, including awarding prizes to the winners of the St Augustine's Priory and The Pitshanger Bookshop drawing and short story competition, 'The 100 Year Old School'.
We wish Pervin every success in her work as the Ealing Youth Mayor!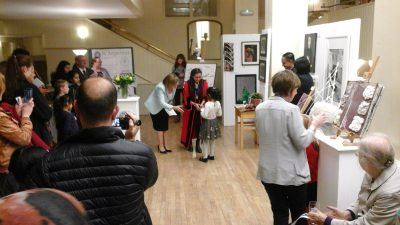 Categories:
Sixth Form
Whole School