Operation Christmas Child
For several years now at St Augustine's Priory we have supported Operation Christmas Child which is a project run by Samaritan's Purse. This scheme gives presents to children in need at Christmas, all over the world. Over the years we have collected hundreds of boxes full of small gifts for children who lack the basic necessities.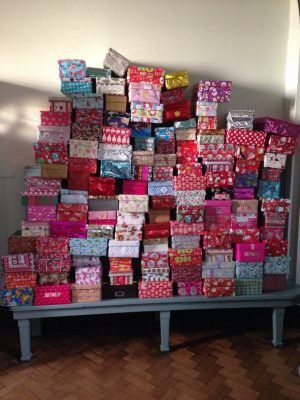 All that is needed is a shoebox filled with gifts and which must be brought to St Augustine's Priory by Friday 20th November.
What do you need to do?
Take an empty medium sized shoebox, wrapping the lid and box separately in colourful wrapping paper. Attach the appropriate boy/girl label, marking if your gift is for a boy or a girl. Select an age category 2-4, 5-9 or 10-14 and attach the label to the top of your shoebox.
You can then add presents such as toys, school supplies and hygiene items.
Toy items would include a doll, cuddly toy or deflated football with pump, skipping rope, harmonica, puzzles or a yo-yo.
School supplies could include pens, pencils and sharpeners, crayons or felt pens, stamps and ink pad sets, writing pads or notebooks and paper, solar calculators, colouring and picture books etc.
Hygiene items could include toothbrush and toothpaste, bars of wrapped soap, comb or hairbrush or a flannel.
Other suggestions are cap, gloves or scarf, sunglasses, hair accessories, jewellery set, wind up torch, wrapped sweets (best-before-date must be at least March of the following year).
But please do not include used or damaged items, war related items such as toy guns, play soldiers or knives; chocolate or other food items; liquids or lotions of any type including bubbles; medicines; hand-made or knitted stuffed toys; anything of a political, racial or religious nature; sharp objects; glass containers, mirrors or fragile items; playing cards of the 4-suit variety; clothing other than as listed above.
If you would like to follow where your box goes, you can make a shipping donation online at Follow Your Box and then you will discover the destination of your shoebox gift by adding the barcode Samaritan's Purse sends you for your shoebox. Simply donate £3 for each shoebox you pack to cover transportation costs. Or you can enclose cash or cheque (to Samaritan's Purse) and place it in an envelope inside your shoebox on top of the contents.
Note: Follow your Box is only available when you pay online.
To discover more please go to www.samaritans-purse.org.uk
This is a wonderful way of supporting children worldwide, we do hope you will be able to help.
Categories:
Faith Life
Whole School