Upper VI Former's Mural
Our theme for this academic year is Courage. Courage takes many forms, sometimes a momentary blaze of bravery, but, more often, a steady perseverance and steadfast resolution over a long period of time.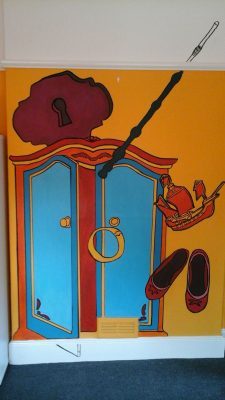 We are extremely fortunate at St Augustine's Priory to have an array of talented pupils who are committed and have the courage to persevere. One of these, Ruhi Patel, Upper VI, has shown her mettle and taken on her first graphic design commission by painting a mural in the Junior Library. A great preparation for the world of work, Ruhi showed great courage in leaving her comfort zone and expanding her horizons.
This mural is open to our Junior public from today, 30th September, right in the middle of Book Week.
The entry to the Junior Library already signposts the way to the world of literature, with Hogwarts, Wonderland, Narnia, Mordor, Neverland and Land of Oz signalling the wonders to be found within. Some of the Preps have already seen Ruhi's work while in progress and were very excited about it.
Using the signs on the library door as her starting point, Ruhi has produced a work which is, to quote Miss Eng, Acting Head of Art, 'vibrant and energetic'. Miss Eng went on to say that, 'I'm really pleased that Ruhi completed the work in so short a space of time and fulfilled the brief so well'.
Ruhi was commissioned to paint the mural just before the summer holidays and spent the holidays working on the elements that it would comprise and planning the design. She started the physical work of drawing and painting as soon as the Michaelmas Term began and has worked solidly between and after lessons to complete it, right on target.
Using as her inspiration the work of artist Michael Craig-Martin, whose work often features objects, vibrantly coloured, but not all of which are coloured in, Ruhi has created a brightly coloured design of different layers with the topmost and bottom sections – those above the picture rail and below the skirting board – left uncoloured. She chose colours that complemented the colour scheme of the room, but used different shades and also added an extra colour, green. An example of Michael Craig-Martin's work is shown below.
In the content of her mural, Ruhi used objects featured in children's literature: the wardrobe, gateway into Narnia, a wand from Harry Potter, Captain Hook's ship from Peter Pan, the gold ring from The Lord of the Rings, Dorothy's red shoes from The Wizard of Oz, and a keyhole from Alice in Wonderland. Of her choice of objects, Ruhi said, 'these are the different stories I grew up with too'.
Ruhi said that, 'This has been fun to do and has put my creative skills to the test. I was under pressure – it was a large space to cover, and if it went wrong, I couldn't cover it up!'
Ruhi has experimented with a mural prior to this; a wall of her bedroom at home is covered with graffiti, an area of art she has explored through courses.
Ruhi's colleagues in Upper VI also helped with the painting. As Ruhi says, 'This was a great experience. My friends in Upper VI helped me; we showed great teamwork and worked very hard'.
Ruhi finished by saying, 'Through this team work we in the Seniors are giving something to the Juniors'.
Congratulations Ruhi, and thank you. Your gift to the Juniors is one they will enjoy for years to come.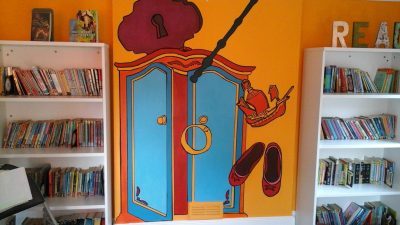 Categories:
Junior
Sixth Form