Sixth Form and Upper V Leadership Day
We are already looking forward to our Sixth Form Open Evening to be held on Thursday 15th October, from 5.00p.m. (registration and tea from 4.00p.m.). Our Sixth Formers are great role models for younger pupils, and wonderful examples of leadership.
Leadership training courses are a great way for students to develop skills of leadership, encourage personal development and teamwork and have experiences they would not normally enjoy.  They are certainly valuable in preparing our Sixth Formers and Upper V for the challenges they will face when they are prefects and part of the leadership of the school and also for their future life through university and beyond.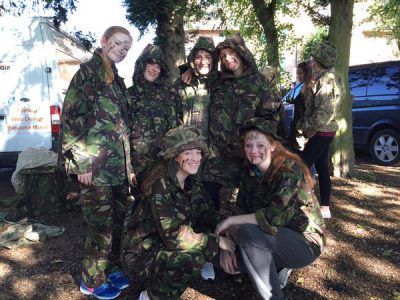 Mackenzie Parry-Bull, Lower VI, writes about the recent Leadership Training Day, led by the organisation, Thrills and Skills for Life, which has led our girls through very successful leadership courses for several years.
'On Saturday 19th September the Sixth Form and Upper V took part in a Leadership Course in the grounds of St Augustine's Priory.  This course tested our team work abilities and was enjoyable at the same time. We began the day with some problem-solving and team-building activities.  For example, we divided into teams and had to transport barrels over a 'river' (actually part of the St Augustine's Priory grounds) by using only a few basic materials.  Competition between the opposing teams was tough!
We also built bivouacs using only materials we could find in the grounds and these were judged on their waterproofness by Chris Hall from Thrills and Skills for Life.
As the day continued we covered ourselves from head to toe in camouflage, painted our faces and hid in the shrubs in the grounds with the aim of preventing ourselves from being seen by Mr Murphy, one of the Directors of the Sixth Form, and the Thrills and Skills for Life team.  I realised that when cramped together in the bushes with two other people's legs resting across me that this was an afternoon I would never forget and I can't wait to do it again in June, when we have a week-long residential course!'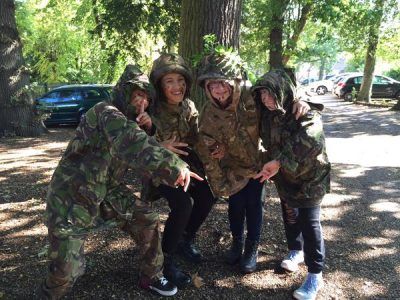 Mr Murphy commented that 'During the camouflage exercise I was standing only three feet from one of the groups and I couldn't see them at all – great camouflage!
In June 2016 the Lower VI will participate in a week-long residential leadership course to prepare them for their new roles as student leaders of St Augustine's Priory in their Upper VI year.  During this course one of the days involves training in emergency exercises (which is used by Imperial for their Year 4 medical students) and another day comprises exercises which BBC and Channel 4 journalists take to prepare them for going into hostile territory.  These courses are great fun and also challenging and encourage our pupils to think outside the box.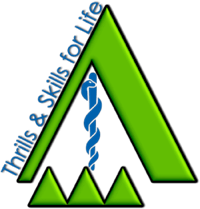 If you are interested in attending our Sixth Form Open Evening on Thursday 15th October, please go to the Book a Visit section on the Admissions page of our new website, www.sapriory.com  We look forward to seeing you!
Photographs courtesy of Kiranjeet Sandhu and Thrills and Skills for Life.
Categories:
Sixth Form