Three Faiths Forum Link Day
Upper IV go kayaking!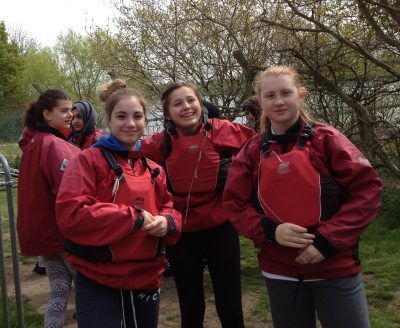 For our final Three Faiths Forum link day with Unity Girls' High School, Mrs McDermott brought five Upper IV girls to the Welsh Harp Reservoir in West Hendon on Friday 1st May. The activity was a two hour kayaking session with the Phoenix Canoe Club.
We met Miss Sophie and the Unity Girls and Naomi from 3ff at the venue. From the moment we arrived the instructors kept us busy! We looked incredibly stylish in our red waterproof tops and life jackets. At first we had some training on dry ground. We were shown how to sit in the kayak, how to move the paddles and what to do if we capsized. We practiced shouting, "capsize" and pointing at the capsized person!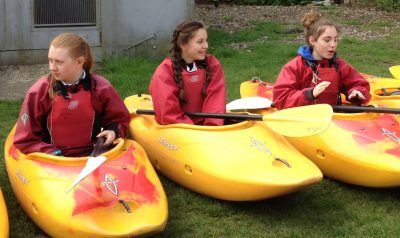 Once the instructors were satisfied we knew the basics we carried our kayaks to the water's edge and gingerly pushed ourselves in. The next hour and a half was full of splashes, fun and laughter.
Ljiljana thought that "It was a great experience. The kayaking helped us maintain our friendships through team work. I was the first and only girl to capsize within the first 5 minutes of being in the water. I didn't think I would be able to get back into the kayak but I managed – even if it wasn't gracefully done."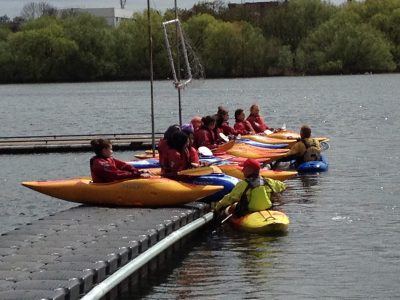 Lucy's reflection from the end of the day, "It was very enjoyable and a good experience to do something not all of us had previously done. Even though I didn't capsize, I still got soaked and came out of the lake very cold. It was lots of fun to be with new people!"
"It was a great day and we had the opportunity to meet new people and test out our kayaking skills (which, may I add, were minimal). It was a fantastic experience despite the fact that we got absolutely sodden from head to toe. I would definitely love to try it out again sometime" was Rossy's verdict on the day.
Despite having a finger injury, Heather still managed to kayak, "The kayaking was great fun, also being able to share the moment with the Unity Girls. None of us were very good at first and I'm sure there were moments when we all thought we were going to fall in, but we had a great day and I'd love to do it all over again!"
The final word is left to Alex, "It was really nice to see the girls from Unity School again and I really enjoyed having the opportunity to do something fun that I had never done before. The kayaking was very hard but I was determined to be able to do it. The picnic afterwards was also really enjoyable as we got to know the Unity Girls even better."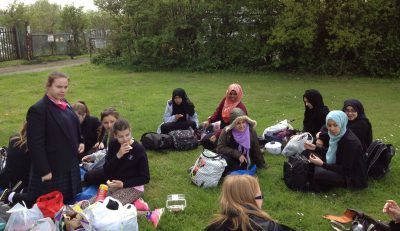 Categories:
Faith Life
Senior