New School Officials
Announcement
Today, Wednesday 22nd April, saw the announcement of our new school officials. At a whole school assembly this morning the Headteacher, Mrs Raffray, announced who the new Head Girl and her team of Deputies, House Captains and Prefects are to be for the academic year 2015 – 2016.
Congratulations go to Billie Morrison, who is the new Head Girl and all her team, among whom are her Deputies, Katarina Krneta (Preps), Shivali Sharma (Juniors) and Alexia Kirov (Seniors). House Captains are Jasleen Deu (St Gabriel), Rhiannon Phillips (St George), Alexandra Miradi (St Michael) and Anna-Rose Poyntz (St Raphael) and the Whole School Ambassadors are Lida Ghanadian and Ridhi Thukral.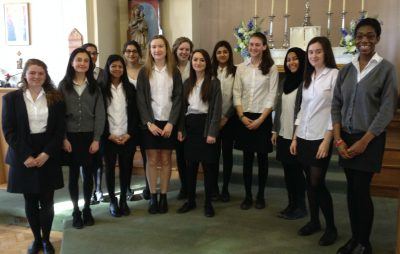 Our outgoing Head Girl, Caitlin Tipping, together with her team, have worked together brilliantly and worked hard to support and lead the school throughout the year. The photograph above shows members of the current team of officials and the new team after the announcement at assembly.
There are many events this term which the current School Officials and the new team have to look forward to. Firstly, we wish them well for their examinations and, among other things, there is also the visit of the Cardinal on 30th June, the Arts Festival and the visit of Circus Pazaz, together with the Upper VI Leavers' Mass and Reception, the Upper VI Summer Ball and the Upper VI Progression evening in September.
We would like to thank Caitlin Tipping and the current School Officials for all they have done and continue to do for St Augustine's Priory and look forward to working with Billie Morrison and her team as they lead the school into the new academic year.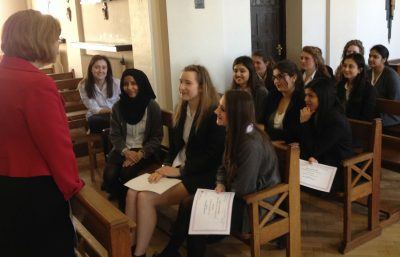 Categories:
News Flash
Whole School