Lower II and the Tudors
Visit to Hampton Court Palace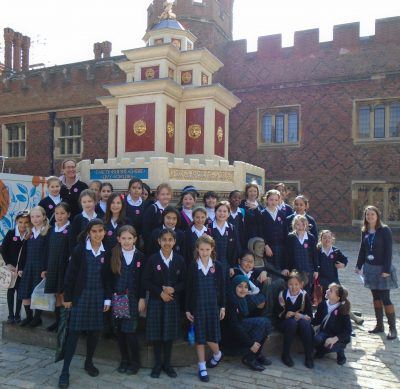 Mrs Griffiths reports on Lower II's recent foray to Tudor times: 'On Wednesday 11th March Lower II visited Hampton Court Palace as part of their History curriculum. They are studying the changing power of monarchs and their current focus is the Tudor period. Our visit included a Tudor portrait workshop, a tour of the King's apartments and the kitchens. We were delighted to bump into Cardinal Wolsey and to be able to quiz him on the politics of palace life.'
Maysa Ahmad Hitt in Lower II Alpha commented: 'I loved my experience at Hampton Court, but I mostly enjoyed looking at all of King's Henry's wonderful tapestries, they were so elaborate and incredibly detailed. I also enjoyed our portrait workshop and learning about what people did in portraits to make them look wealthy or strong'.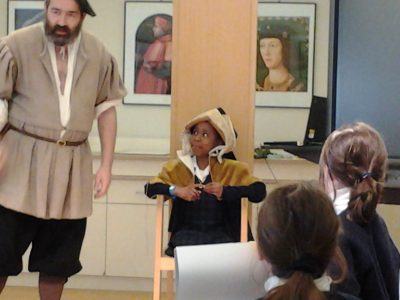 Priya Rodney, Lower II A, had this to say: 'I was amazed when I spoke to the Chancellor of King Henry VIII (Cardinal Wolsey), about how Henry treated them! I was impressed when I saw the kitchen and how big it was'.
Lily Rai, also Lower IIA, said that 'I did not know about the different types of roses. We learnt about drawing the faces of royal people and I liked seeing the different foods they ate in the kitchen.' This was echoed by Maryam Kamar, Lower IIA, 'I really enjoyed going to the kitchens because I like how we were able to smell some things and I loved the special effects. I also enjoyed going to the Great Hall because I loved the view from King Henry VIII's table.'
Lily Rodney, Lower II Alpha, said: 'We looked at the wine fountain, then we went to the shop. After this we did a wonderful workshop where we drew a girl in our class. After that we went into the kitchens and there were great and bad smells. We then went to the beautiful Chapel and saw some lovely tapestries and the famous portrait of Henry VIII. I had a great time and learnt a lot'.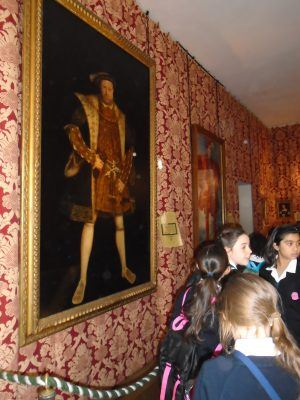 Sofia Krunic, Lower II Alpha, adds: 'I loved learning the history of the six wives of Henry VIII. I especially enjoyed going to the Chapel and standing exactly where all the six wives stood. I am very excited about finding more information about Jane Seymour and Catherine Parr. In total, I absolutely loved the visit!'
Categories:
Junior