From Lab. Tech. to Vet.
Maria Cherepanova bids farewell
Maria Cherepanova left us in July 2014 after Upper VI and A Levels and returned here in September 2014 as a Laboratory Assistant. She has spent the last six months working mainly on Physics but also assisting Mrs Morrison, our Laboratory Technician, with Biology and Chemistry work. During her time here, among other things, Maria has set up experiments, cleaned the labs, ordered equipment and put together displays.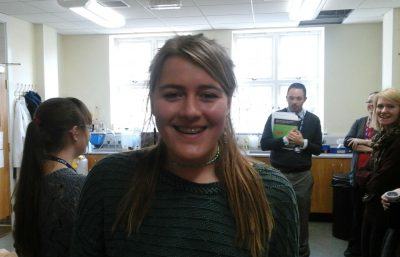 But now Maria is going to pastures new – literally. For Maria is going to a farm in Tywyn, near Cader Idris in Wales, to assist with the lambing season. Maria says, 'This will be really exciting. I have worked on the farm before but it will be really good to be there for a month'. This is in preparation for Maria's future studies at the University of UGent (the University of Ghent) in Belgium where she is going to study veterinary medicine – a six year course. Of veterinary medicine, Maria says, 'I love animals, this career is right for me. It can also give you a lot of freedom – I will be able to work on volunteer projects or do locum work. At the moment, apart from working at St Augustine's, I am also doing work experience at a local vet's and enjoying it thoroughly.'
Of her time here she added, 'I have enjoyed working here and have learnt a lot in terms of working in a lab and the science involved. It has been very interesting being back. Even though I have only just left the Upper VI I didn't feel like a student – I saw the backstage work involved in teaching and the preparation of lessons and marking – how much work goes into a school'.
Maria went on to say, 'I would like to thank St Augustine's Priory. This school has taught me from when I was eleven years old and has now given me this valuable life experience.'
On her last day here, Friday 27th February, the Science Department staff said goodbye to Maria with a presentation in the labs. Mrs Morrison had this to say, 'I will miss Maria, she has been a wonderful colleague and great to work with'.
We would like to thank Maria for all she has done here and wish her well in her future studies.
Categories:
Priory Post