Welcome Yusra Al-Jumaily!
Past pupil returns for teaching module
This term we welcome back Yusra Al-Jumaily who is now in her final year at Queen Mary University, London, where she is studying Hispanic Studies with Business Management.
Yusra, who left after taking her A Levels in July 2011, is now on a teaching placement module, studying teaching theories. She is here until the end of the Lent Term observing both Junior and Senior lessons taught by Mr Alejandro (Head of Modern Languages). So far Yusra has observed Lower II classes and says the girls are 'so enthusiastic'.
Yusra in rehearsals for our 2007 school production, Bugsy Malone
On returning to St Augustine's Priory to undergo her placement, Yusra comments, 'Where better to do something like this than somewhere I grew up? I was happy here'.
Yusra at her Sixth Form Leavers' Ball
One memory which stands out for Yusra from her time here as a pupil is when she was in the Sixth Form: 'I remember one assembly when the former Headteacher, Mrs Gumley-Mason, had lost her voice. Several awards needed to be handed out to girls and so the Headteacher beckoned to me to stand by her. She whispered the names of the recipients in my ear and I called the girls forward and handed out the awards. I felt very important!'
It is wonderful to see Yusra back at St Augustine's Priory and we hope she finds her time here useful and enjoyable.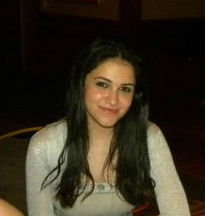 Categories:
Priory Post