Modern Languages
Limitless Linguistics (Part I)
The Modern Languages Department is preparing for one of the highlights of the year. On Tuesday 17th March Lower II will be hosting Year 5 of St Gregory's Catholic Primary School, Ealing for a day exploring the magic of modern languages. There will be language activities throughout the day, covering and discovering a variety of modern languages. And in the afternoon there will be a modern languages themed lunch followed by a French play!
To whet our appetites, here are some accounts of the Upper II visit to La Côte d'Opale, France, last November.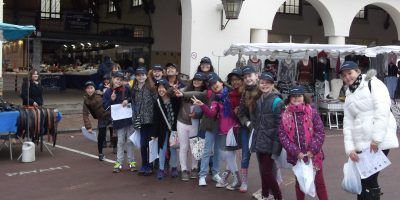 Alice Szlachetko, Upper II Alpha writes: 'This was a fantastic trip because it was educational but fun at the same time! It was interesting to learn about lace, how chocolate is made, how traditional bread is still made in a fifty year old oven at the bakery we visited and the Second World War. We also learned about everyday activities, such as the market of Le Touquet and a supermarket. It was great to see lots of animals and feed them on the farm we visited and to learn how to say the words in French . The food was different but very tasty!
Thank-you to Mrs Tippen, Madame Assemat, Mr Alejandro and Mrs Farmer!'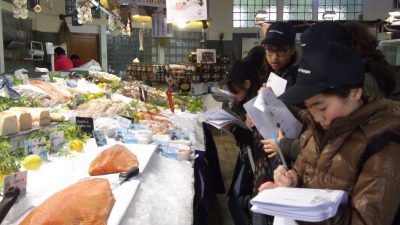 Lucia Orsi, Upper II Alpha, adds: 'Upper II went on our first school trip to France. We arrived at school at a time that I normally would have been fast asleep, 6.20 am!
Our first visit was to the Lace and Fashion Museum. We had an interesting talk about the history and making of lace. I bought my mother a lovely blue bracelet from the gift shop. Afterwards, we went to the Ambleteuse Museum. The museum has a collection of World War II uniforms, weapons, military equipment and vehicles.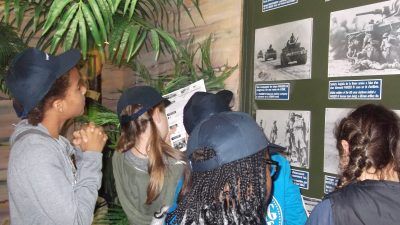 We then went to our hotel. I was sharing a room with Haruka. We unpacked and went downstairs for a meal of chicken à la crème and a chocolate éclair. We were exhausted after our early start and long day and fell asleep quickly.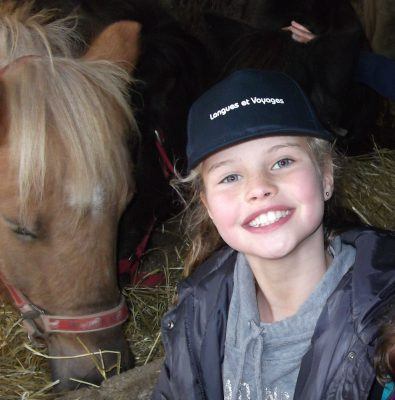 Our second day started early with a continental breakfast at the hotel. We then headed off to Le Touquet Market and had a booklet to complete. We had to find different vegetables, cheese, fruits and bread. I was in Madame Assemat's group, so I knew we wouldn't be struggling with our French!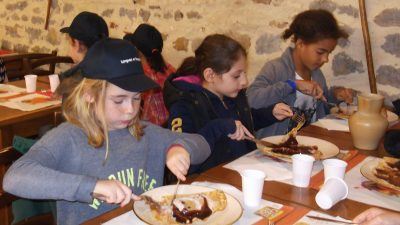 Our next stop was a chocolate factory. The smell was mouth-watering. We watched a presentation of how chocolate is made and then visited the chocolate shop. We had lunch at a farm. We saw lots of animals and I held a very cute little black bunny. Our last stop of the day was to the supermarket. I bought a Christmas decoration for our tree this year with the word 'Noel' on it to remind me of my trip to France.
We were all very excited about our last day as we were to visit our pen pals from a primary school in France. We had already sent them a letter introducing ourselves. My pen pal is called Gabrielle. She loves playing basketball and watching television. She had made me a paper Eiffel Tower as a gift. She was very friendly. We had a wonderful lunch in a Crêperie; I adored my sugar crepe. Afterwards, we went to a bakery. We learned how to make a croissant and took home a pain au chocolat. We left France having had a magnificent time. Au revoir la France et les Français.'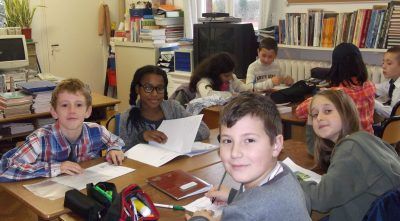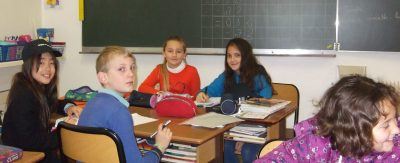 Categories:
Junior