L'arnacoeur (Heartbreaker)
Foreign Language Film Club Review
If you are interested in film, then the Foreign Language Film Club may be for you. Organised by Mr Alejandro, it is open to students from Upper IV upwards.
Here, Leah Mpinga, in Lower VA reviews the most recent film viewed by the club, 'L'arnacoeur' (Heartbreaker), released in 2010.
'This quirky French comedy, starring Vanessa Paradis and Romain Duris, introduces a French spin on romantic comedies.
The story follows the intrigues of the cunning Alex Lippi and his wacky team in an effort to break up the engagement of a prestigious power couple. However, it's not a straightforward mission! The obstacles Alex faces include an iconic Dirty Dancing routine, the failures of his team mates and let's not forget the bride's morally challenged best friend and an ever-so-threatening thug!
A light-hearted tone is constant throughout the movie and there are a few clichés thrown in here and there. The actors' performances each bring an individuality and a flair for comedy to their roles and this helps to cleverly balance the film's accessibility for both native French speakers and non-French viewers of the film'.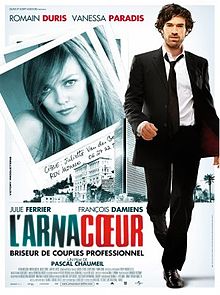 Categories:
Senior