Sushi Supreme!
Sushi Demonstration at St Augustine's Priory
Today, sushi making was demonstrated at St Augustine's Priory. Our school caterers, Holroyd Howe, sent their Executive Chef, Damian, to school to tell us all about sushi and show us how it is made. Damian summed sushi up when he said that this healthy meal of fresh vegetables, fish and rice was 'the original fast food'.
During Little Break and lunchtime on Monday 19th January Damian and his colleague, Rebecca, gave some mouth-watering demonstrations of how to make sushi to our enthusiastic girls. After preparation, girls were given samples to taste – and often requested more!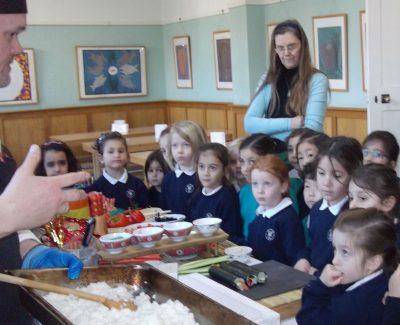 So – how do you make sushi? First, Damian prepared his work surface by laying down a flexible bamboo mat on which he placed a nori seaweed sheet. On this he spread some sushi rice, which is sticky and holds together. On top of this Damian placed some vegetables and fish and then, using the bamboo mat, rolled it up so that it looked like a delicious sushi sausage. He then cut this into thin slices and offered them to the girls to eat. No encouragement was needed and the sushi was eagerly devoured!
The vegetables and fish used during the demonstrations were cucumber, peppers and smoked salmon, although normally raw fish would be used in sushi making.
Thank you to Damian and Rebecca for today's delightful demonstrations of such delicious dishes!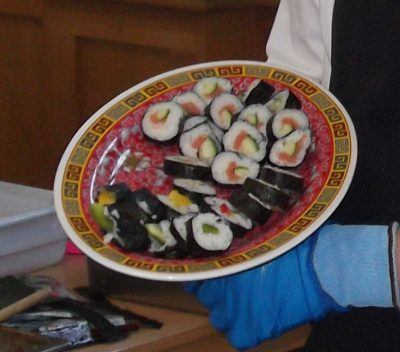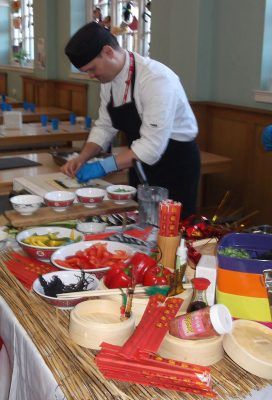 Categories:
Junior