St Augustine's Priory EXTRA
Weekend and holiday activities galore…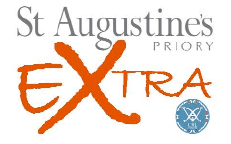 We are pleased to announce the launch of St Augustine's Priory Extra (please see on the Useful Links section of our website).
This is a programme of fun and stimulating weekend and holiday activities for all children (not just St Augustine's Priory pupils) aged from 3-18 in our 13 acres of grounds. This programme runs in conjunction with our school sports programme on Saturday mornings for St Augustine's Priory girls.
Since 13th September 2014, Saturday classes have been running with the La Petite Ecole d'Ealing, Yourspace classes in drama and dance and LAMDA solo lessons.
During the Easter and Summer holidays 2015 we will have the fantastic Super Camps at St Augustine's Priory, running multi-activity camps, as well as their exciting Raw Adventure course, which will make use of our wonderful school grounds.
Yourspace will be running its popular holiday drama courses in both the Easter and Summer holidays. Film Camp will also join the programme in the summer, offering children the opportunity to create their very own films here at the school.
Weekends and holidays will never be the same – it all adds up to an exciting future of Saturday classes and holiday courses for all children to enjoy!

Categories:
Priory Post