A DAY IN THE LIFE…
…of Mrs Murphy
This episode of 'A Day in the Life…' focuses on a typically extremely full day in the life of Mrs Murphy, our Head of Drama, Senior Form Teacher for Upper IV and Lower V and mother of three.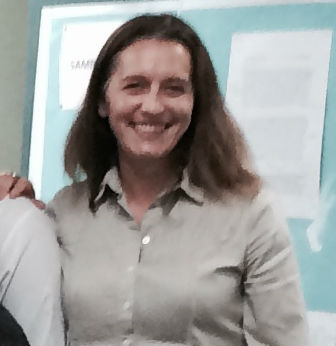 05.30 Felix wakes us up with some 'dadadas' so it's time for a bottle.
06.00 Watch some news, drink some tea, prepare some fruit breaks.
06.30 Put Felix back to bed and check my email.
07.00 Contemplate how I have already been up for an hour and a half and it's only 7 o'clock. Stella and Frankie are up and either playing nicely or not.
07.15 Various breakfasts in various parts of the house.
07.30 Battle commences to get Stella to get dressed.
07.45 Mad panic (despite having been up forever) to get out of the door on time.
08.15 Drop Felix at his childminder's.
08.30 Drop Stella and her scooter at our Nursery.
08.40 Head to Assembly.
08.55 Teach Lower V all about writing a piece of theatre criticism. Lesson includes working with one of last year's A* evaluations, standing up and doing 'jazz hands' when we hear Wow Words.
10.40 Mentoring meeting with a pupil.
10.55 Run for coffee avoiding temptation of biscuits.
11.10 Catch up on emails/paperwork/check status of Lower IV homework on VLE.
11.50 Get started on Upper V Unit 2 controlled assessment.
12.45 LUNCH!!! Am always VERY hungry by lunchtime. Try, and sometimes fail, to eat healthily.
1.00 Comedy of Errors rehearsal – spend much of it deciphering meaning and directing the scene for comedy (again but funnier!) helped by Assistant Director Jenna Masih.
Comedy of Errors rehearsal
1.45 While the rest of the school are in registration I get a bit of photocopying done and check my pigeonhole in staff room.
1.55 Teach Lower IV starting a Unit on Status in Drama. Activities include a spontaneous improvisation game called "Yes Let's!"
3.40 On duty in the Upper IV and Lower V locker room.
4.00 Senior Form Teachers' meeting discussing various pastoral issues.
5.00 Collect Stella (almost forgetting her scooter) from Extended Care at our Nursery.
5.20 Collect Frankie from After School Club.
5.35 Arrive home to the wonderful smell of dinner made by Mr D Murphy.
5.45 Dinner all together at the table listening to 6 Music and persuading Frankie and Stella to eat their vegetables.
6.30 Watch some news, drink some tea, yawn a lot. Give Felix a bottle. Frankie does his homework.
6.45 Teeth, pyjamas and story for Stella.
7.00 Bedtime for Felix.
7.30 Frankie allowed some Kindle time. Relax on the sofa every now and then putting reminders for things in my phone (if I don't they won't happen).
8.30 Frankie goes up to read via teeth clean and a bit of moaning.
9.00 Yawn a lot.
9.15 BED!!!!!
P.S. Book your tickets for The Comedy of Errors, playing at The Questors Theatre, Mattock Lane, Ealing W5 from Thursday 26th to Saturday 28th February 2015 at 7.30pm.
Family discounts are available.
Follow the link below to book your tickets, the cost of which will be added to your school account.
saintaugustinespriory.org.uk/production
Categories:
Priory Post