PLAYWRIGHT TO WATCH
Creativity rules at St Augustine's
In August we produced an article on a former Augustinian, Lulu Raczka, and her career as a playwright. We reported that her play 'Nothing' was being performed at the Edinburgh Fringe by the Barrel Organ Theatre Company based at Warwick University. 'Nothing' had already won four awards at the National Student Drama Festival 2014, including the Sunday Times Young Playwriting Award, awarded to Lulu.

A play comprising eight interwoven monologues which the Financial Times says 'paint a bleak picture of our atomised, introspective society', 'Nothing' received rave reviews at Edinburgh. The Guardian commented, 'Playwright Lulu Raczka announces herself with an uncompromising snapshot of a generation who feels the future has very little to offer them'. It went on to say that Lulu has, 'a voice so distinctive and fully formed it's hard to believe she's so young'.
The Financial Times said 'Arriving in Edinburgh with a clutch of National Student Drama Festival awards in tow, Lulu Raczka's Nothing is the most assured of the year – longer than that, if you discount solo shows such as Phoebe Waller-Bridge's Fleabag last year. Not since 2010 – Anya Reiss's Spur of the Moment at the Royal Court, London – has a first-time play felt so certain in both voice and intent.'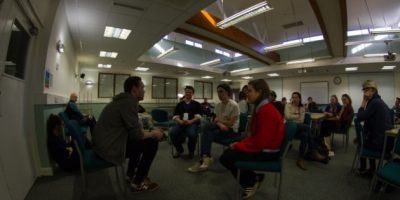 Our readers may like to know that Phoebe Waller-Bridge, mentioned in the Financial Times review, is also a former pupil of this school.
From Edinburgh, 'Nothing' is now going to be performed at Camden People's Theatre from Wednesday 19th to Saturday 22nd November. If you would like to obtain tickets please call the Box Office on 020 7419 4841. The theatre is at 58-60 Hampstead Road, NW1 2PY, two minutes' walk from Warren Street, Euston Square and Euston stations.
Important: Do please note that this play is not suitable for children (under 18).
We are so pleased that Lulu, a talented writer, has achieved this success and wish her all the best in her career.
Categories:
Priory Post