Mich.14
BOOK WEEK
Invasion of the Book Characters
This year's Book Week has been one of excitement, exhilaration and enlightenment. On Tuesday, 7th October, Paul Lyalls, Poet in Residence at the Roald Dahl Museum 2013 – 2014, came to St Augustine's Priory and began the day with a Poetry Assembly for Prep I to Upper II. After this he conducted some inspirational poetry workshops for Lower I to Upper II, visiting each class in turn. At the end of the day he signed copies of his poetry book for children, 'A Funny Thing Happened'. Mr Lyalls brought great energy and enthusiasm to poetry and his workshops were a great success.
We received some comments from the enthusiastic participants:
Olivia Barnard, Upper II, said "I loved it", while Fikayo Ajayi in Lower II commented "He was really inspiring". Annice Kerr, also in Lower II, was impressed that Paul Lyalls "Taught us how to make poems with our names".
On Wednesday, Upper I visited the Roald Dahl Museum and, during the week, our local independent bookshop, Pitshanger Bookshop, also came to the school, bringing a wide selection of books for a Book Fair which ran from Wednesday to Friday.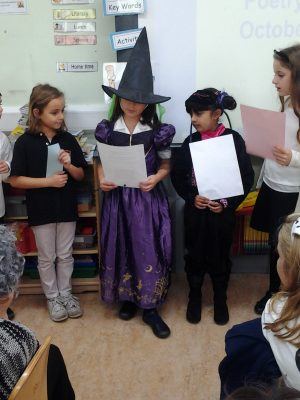 To round off the week, on Friday 10th October Juniors and staff celebrated all things literary with a wonderful demonstration of dressing up – there were pirates, princesses and animals from polar bears to dotty dalmations; characters from a wide variety of children's literature all descended on St Augustine's Priory to celebrate books and reading. It was a great way to finish a very exciting week.
Priory Post