Upper V
Upper V is a challenging and rewarding year as the girls prepare to sit their GCSEs and choose their A Level options.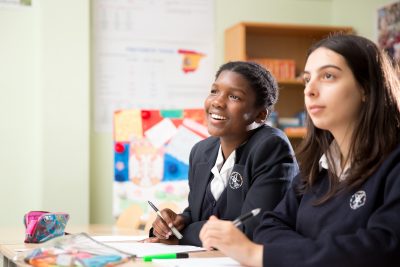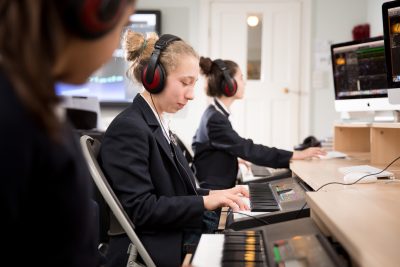 The following events are organised during the year. They are designed to help the girls choose their A Level options and prepare them for university and the world of work. We continue to encourage the girls to develop self- awareness and the confidence to take greater intellectual risks in a supportive environment in which each girl is valued and allowed to be herself.
A Level Taster Day and Information Evening & Sixth Form Open Evening
The Upper V are Sixth Formers for the day, attending A Level taster lessons and joining the Lower VI in the VI Form Common Room. This is followed up with an information evening for parents and girls about the various A Level options available to girls at St Augustine's Priory.
Heads of Department and subject teachers are available to answer questions on their subjects at A level. A presentation is also given on UCAS procedure (university application), the responsibilities the girls will enjoy as VI formers as well as the extra- curricular opportunities available to all girls.
Girls also attend the Sixth Form Open Evening to find out more about moving up to life in our vibrant Sixth Form.
Careers Guidance
Morrisby Careers profiling is offered to girls in the Upper V. Each girl receives one to one feedback with an adviser based on the psychometric test taken in Lower V. Each girl's aptitudes are assessed and suitable university and career paths discussed and explored. The girls follow this up with continued advice and support from staff and ISCO, as well as taking the opportunity to attend relevant talks and seminars which focus on specific careers in London. Sessions run throughout the year may also focus on CV writing, university applications and how to develop greater awareness in order to match their own unique skills to particular careers.
Careers Evening
Girls and parents from Upper IV upwards are invited to attend this exciting event which draws together professionals from a number of different industries. This affords our girls the opportunity to gain a useful insight into possible careers they may wish to consider and enlighten them about jobs they never even knew existed!
St Augustine's Sixth Form Academic Scholarship Process
Girls are invited to apply for an academic scholarship to support their studies in the Sixth Form. Candidates sit an examination and those shortlisted are interviewed by senior staff members and asked to prepare a presentation on an intellectually challenging topic of their choice. Girls should be prepared to discuss and answer questions on their topic. Conditional offers are made on the basis of interview. These offers will be confirmed on receipt of GCSE results in August.
Mock exams and A Level choices
The girls sit mock GCSE exams in early January. Following the exams, each girl will discuss her results one on one with a particular member of staff to ensure that her options reflect her abilities and talents. It is also vital that their options are flexible enough to ensure that potential university and career choices are considered and kept open.
A grid is created based on the girls' A Level choices and the girls then choose A Levels from each column in the grid. At St Augustine's every effort is made to accommodate each girl's first three A Level options.
Able, Gifted and Talented
Our girls have the opportunity to attend Oxbridge group monthly sessions, whether they are interested in applying to Oxford or Cambridge or to other academically prestigious Russell Group Universities. These are often broadly faculty-based (Humanities and Social Sciences, English and Modern Foreign Languages, Maths and Science) and challenge the girls to think independently about a wide range of topics. They are designed to stimulate their intellectual curiosity and as well as their thirst for knowledge for its own sake. Our aim is to develop our girls' confidence in discussing eclectic issues spontaneously to support with interview practice and application to universities.
Relevant Articles