GCSE Devising and Grimm Tales.
Ms Brown, Head of Drama, tells us about Lower V's excellent performance this week:
'Lower V GCSE Drama pupils wowed their audience with their Devising Drama exam plays on the evening of Wednesday 23rd June. From the comic Victorian melodrama 'She Sherlock', to crime thriller 'Jailbirds', to American time travel in the 1980s in 'Time Torn', and finally the abstract 'Fractured Family' that subverted gender roles in 1950s England, the pupils worked rigorously during rehearsals and, as a result, shone in performance.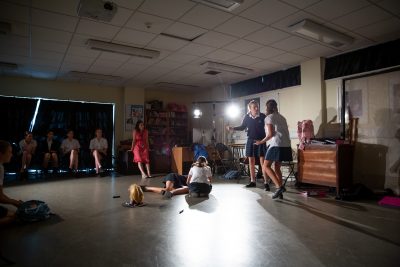 We witnessed exceptional acting and costume design skills, and some utterly masterful application of dramatic conventions, which interwove to create high calibre original drama. The Headteacher, Mrs Raffray, commented that, 'they were the best I have ever seen – all about women and roles… brilliant'. In a time when drama and theatre have been challenged by lockdown restrictions, these talented pupils have triumphed against adversity, creating socially relevant plays, and demonstrating resilience and inspirational creativity.'
In addition, Form III have been filming their performances of Grimm Tales this week, and we are looking forward to the screening of this which will be on Wednesday 7th July. Connie, in Form III, has this to say of her involvement in this exciting project: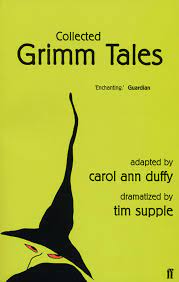 'It was great to be involved in the production of Grimm Tales this week. We did a lot of preparation for the show, which included looking at the tone of the text and use of minimal costume and set to communicate the bleak context of the story. We portrayed the spooky and sinister tone of the play by performing our characters and working with both live and pre-recorded lines. The use of simple yet effective black and white make-up worked really well with the UV lights making it stand out and creating an atmosphere. The performance was filmed on multiple cameras to give the audience the feel of the story through both theatre and film. During enrichment week we had a dedicated Drama and Art Day, where we designed the characters' makeup, had a tutorial on how to apply the make-up and learned the whole year group dance for the film's finale. I particularly enjoyed seeing the production come to life through use of blocking the scenes, understanding the story and creating the characters.
It was great to be involved in the final dance where we were able to dance with the whole of Form III, after working separately for such a long time.'
Categories:
Priory Post
Senior
Whole School