Enthusiastic visitors to Priory Farm.
We were all delighted to welcome the Reception class from the Unicorn School, Kew, on 26th May who came to visit the Priory Farm. Mr Raffray was on hand to lead the children around the school, starting with our sheep. The sheep were as enthusiastic as our visitors as they followed the children as they made their way through their field to visit the other animals.
The ducks and ducklings were released into the grounds and the Unicorn School was delighted to watch as they searched under leaves and twigs to find the morsels they enjoy so much.
The chickens were as curious to see our visitors as our visitors were to see them and when Freya, one of our Senior Farm Managers, showed the children the newly laid duck eggs, there was great excitement.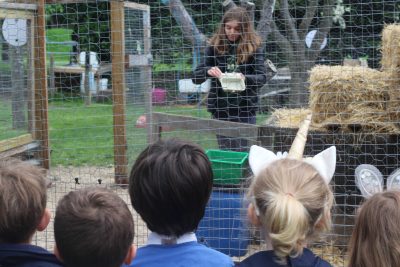 The Reception children were able to meet our two new piglets, who have only been with us for ten days. The children were very sympathetic to the pigs' sensitivity to noise and behaved beautifully around the animals.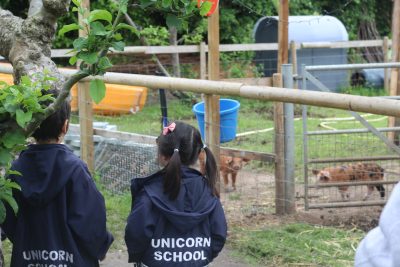 Finally, our visitors enjoyed some well-earned refreshments and play time in the Prep Meadow, enjoying juice and biscuits made in the shape of some of the animals they had seen.
We have received some wonderful comments from the Unicorn School children. One child said, 'I liked Elvis the cockerel best, he made a loud cock-a-doodle-doo!', while another said, 'I saw lambs with their mummies and they ate treats''. A third commented, 'I loved playing on the stage in the meadow', and a friend had this to say about two of our residents, 'the piglets were a bit stinky, but they were cute!'. A last comment focussed on their guide, Mr Raffray, 'I liked Marc, he was kind.' Thank you for all the wonderful comments, we are so glad you enjoyed your time with us.
Finally, Ms Maher, the Reception Class Teacher from the Unicorn School had this to say, 'Both children and adults enjoyed our trip to The Priory Farm, what a magical place. Marc and the staff were wonderful with the children and taught them so much about how the farm works and looking after the animals. It was great to see Freya and hear her speak so fondly of how much she has enjoyed helping out during her time at the school; good luck with your GCSE results, we're sure they'll be great!
We have taken back such happy memories and are already planning our next visit.'
We also hear that the children have had a lot of fun writing sentences about the things they saw and, most importantly, making cakes from the duck eggs they collected – we hope they enjoy eating them!
It was wonderful once more to be able to welcome visitors to the Priory Farm and we look forward to welcoming them back again!
Categories:
Junior
Nursery
Prep
Priory Post
Whole School