International Competition results.
Ariana in Lower V has written about the achievements of St Augustine's Priory language students in an international modern languages competition, organised by Vocab Express. Vocab Express is an online vocab learning application that was designed and developed in conjunction with a number of secondary MFL departments during the first half of 2009.
'From 11th to 17th November, Vocab Express held a worldwide competition with schools from all over the UK as well as Albania, Denmark, Ireland, United Arab Emirates and Zambia. Vocab Express is an online learning platform which allows you to learn vocabulary by completing different tasks, playing games and, when you're ready, taking tests to score points. Our Lower V and Upper V French and Spanish GCSE students took part.
Our school did incredibly well coming third in the world in the Spanish competition. The Challenge Cup Piccolo, which contained schools who had entered up to 150 participants (we only had 45 entering!). In the overall Challenge Cup Piccolo championship, which counted the scores from all languages put together, we came eighth.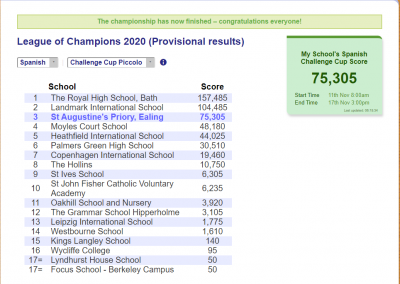 The leader board within our school was:
Ariana B – 11,480 points
Maryam K – 4,420 points
Hodan W – 3,440 points
Margarita Z – 3,125 points
Yuuri Y – 2,980 points
Personally speaking, Vocab Express has improved my Spanish vocabulary and I feel more confident in lessons when we are doing translation and writing tasks since I am able to recognise and use a wider variety of language.'
Congratulations to all who took part in this competition. What wonderful results.
Categories:
Priory Post
Senior
Whole School