'And The House Watches On.'
For fans of poetry, or of local history, Mr Elder, member of the English Department, has served up another delicious volume of poetry.
'And The House Watches On' is a collaboration with the illustrator Charlotte Harker and, as Mr Elder's website says, 'explores the lives, real and imagined, that have passed through West House in Pinner'. Mr Elder's previous publications include 'The Space Between Us', 'Codes of Conduct' and 'Being Present'.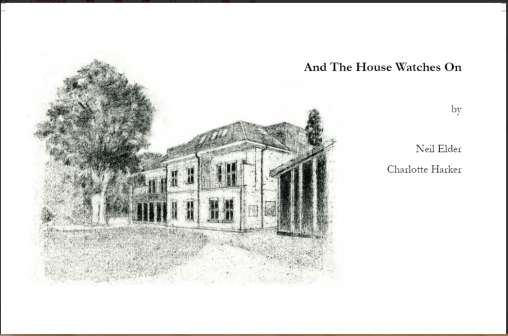 Mr Elder begins his journey with the story of Thomas Bowler, owner of West House in 1812 who was hanged for attempted murder and the next two hundred years sees the house and society moving through history, from being the centre of village life through peace, war and decay until its rejuvenation as the centre of Pinner community life. We see glimpses of those who have lived in or visited the house and gardens, through haunting images matched with eloquent poetry speaking about the grief of Admiral Nelson's daughter, the secret life of servants having a day off, and comparing the life of a child sheltering during a World War II air raid with a child playing hide and seek today.
Above and beyond all this, 'And The House Watches On' is a tribute to West House itself, a landmark that has seen much. As Mr Elder says in the poem 'Jason's Witness':
'And Jason knows this house
will keep his secrets stashed
among the others it has stored.'
If you would like to order a copy of 'And The House Watches On', published by Cicero Press, please go to https://neilelderpoetry.wordpress.com/and-the-house-watches-on/ from where copies can be ordered at £7.99 each.
Categories:
Priory Post
Whole School