Making Music.
Lockdown has not prevented the St Augustine's Priory musicians from making music. Individual lessons and ensemble work have continued and our Summer Concert, with its weaving of musical magic, went ahead as planned last week. Everyone involved, pupils and staff, worked hard to ensure that each person's work blended seamlessly with their colleagues' to produce a concert of ensemble and solo work that was a joy to behold.
Congratulations to all concerned for a showcase of talent and musicianship that was such a delight. As Dr Higgins, Director of Music, said in his letter:
'Since the lockdown, girls have continued to participate in our musical ensembles and have worked incredibly hard, both independently and with staff to produce the videos you are going to see. We hope the girls enjoy seeing the culmination of their work, and how their individual part now fits together with their friends'. We are truly impressed with how they have taken up the challenge of remote music-making and congratulate everyone involved.
We could not have done this without the help of some important people. Our thanks go to our dedicated Music Department staff, Mr Judson, Miss Jackson, Miss Aspinall and Mr Scott, who rehearsed with the girls remotely every week. We are also indebted to several pupils for their creative support. Naomi Jeffries and Sophie Fung have shown wonderful support and leadership to their Little Sisters in the Junior Flute Ensemble; Lara Bondarenko mixed the final track of The Curators professionally; and Siya Sehgal has been an enormous help in producing the Junior Choir video.
Finally, thank you to the newly-skilled cameramen and women out there who have made this project possible.'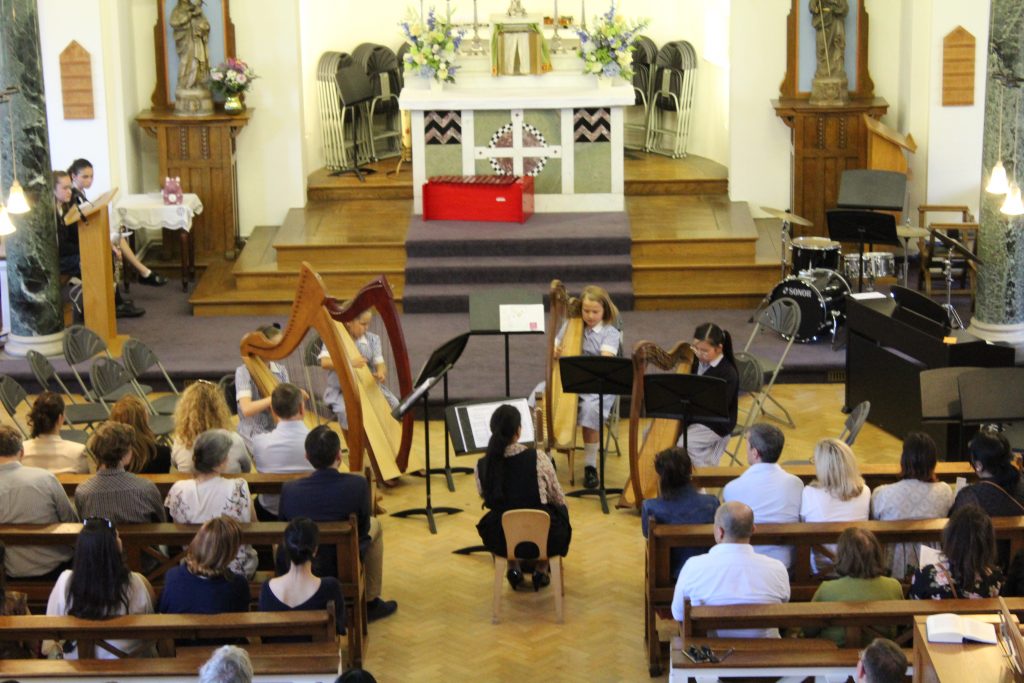 There was a wide variety of ensemble and solo work played and the concert's programme comprised the following works:
Junior Choir: ' See you again'
Junior Flutes: 'Chitty Chitty Bang Bang' (with bells and whistles!)
The Curators: 'Day Tripper'
Harp Ensemble: 'Clair de Lune'
Senior Choir: 'Stand by me'
Chamber Choir: 'So Strong'
Senior Flutes: 'We all stand together'
Solos
Jasmine Dawuda: 'Morceau de Concours', Fauré (flute)
Lara Ward: 'Allegro', Vivaldi (violin)
Jane Tang: 'Hippopotamus Rag' (harp)
Lucia Puccetti: 'Butterflies' (piano, own composition)
Claudia Bileckyj: 'After dark', W. Edwards (orchestral xylophone)
Alisha Beliajev: Own composition (violin)
Isabel Jeffries: 'The Swan', C. Saint-Saëns (cello)
Lucia Orsi: 'Willy Wagglestick's Walkabout', B. Bonsor (piano)
Claudia Bileckyj: 'Ebbing Tide', L .Thompson (harp)
Mariella King: 'Sarabande', J.S. Bach (cello)
Sophie Robinson: 'Rondo', B. Paret (harp)
Mari Phillips: 'Nocturne no.2', F. Chopin (piano)
The Summer Concert can be seen by going to
which will then lead you to the body of the concert.
Categories:
Junior
Prep
Priory Post
Senior
Sixth Form
Whole School