Visit of Frank Cottrell-Boyce.
The visit of author Frank Cottrell-Boyce on Friday 13th March was an amazing finale to the previous week's celebrations of Book Week and World Book Day. Mr Cottrell-Boyce has written sequels to Chitty Chitty Bang Bang, won the 2004 Carnegie Medal for 'Millions' and the 2012 Guardian Prize for 'The Unforgotten Coat'. He also wrote the 2012 Summer Olympics opening ceremony, for which the artistic director was Danny Boyle.
Juniors gathered in the hall to meet Mr Cottrell-Boyce who spoke of how, on his very first day of school, he kicked a nun! He then followed this up with a wonderfully entertaining talk which encompassed literature, writing and robots. He also read several very entertaining passages from his book, 'Runaway Robot'.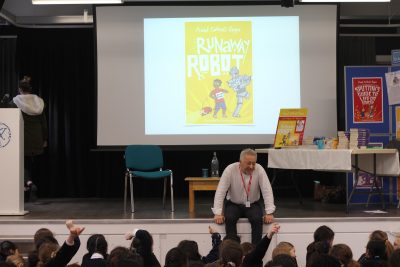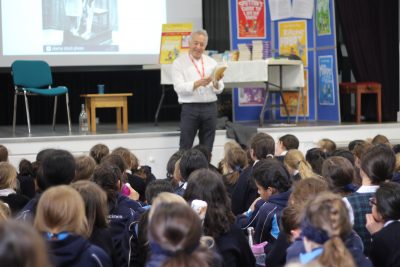 Questions came thick and fast from the girls including one on how did he come up with his stories? Mr Cottrell-Boyce explained that no story is new, but that everyone can put their own spin on very old stories. He then took a story as an example and tracked it back through time – looking at versions of it in the written word and also on film and finished up with its origins in writing in one of The Canterbury Tales of Geoffrey Chaucer, 'The Pardoner's Tale.'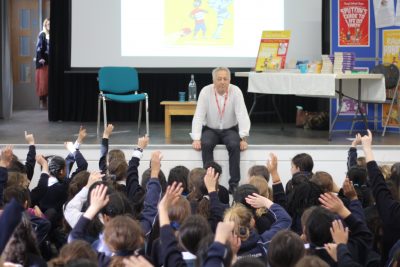 Mr Cottrell-Boyce mesmerised the children, answered their questions and enthused them and the staff present. This was a great way to end our literary celebrations!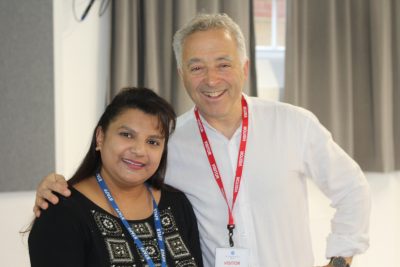 Mr Cottrell-Boyce with Mrs Bhatti, our School Librarian
Categories:
Junior
Priory Post
Senior
Whole School