Stretch your brain!
The St Augustine's Priory Parents' Committee quiz nights are always an excellent time to jumble up the brain cells for an evening of food and fair play. Taking place this year on Friday 13th March, doors are open at 7.00pm and the quiz starts at 7.30pm. There will be a break during the evening for you to feed your brain with a well-deserved meal.
Tables hold 8 – 10 people but you are welcome to book individually and make new friends when you get there! This is a great evening for meeting fellow parents, so do come along and enjoy what will be a wonderful evening.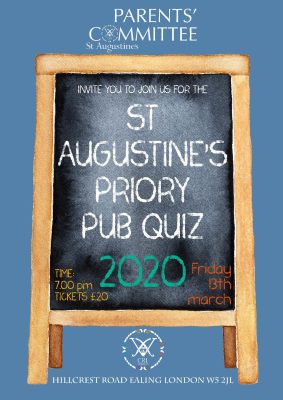 There are two ways to purchase tickets: either by adding the cost of the tickets to your school account by completing the online form or by signing the consent form attached with your details and returning it to the Parents' Committee via the School Reception.
Funds raised by our brilliant Parents' Committee go towards supplying extras for your daughters.
Categories:
Junior
Nursery
Prep
Priory Post
Senior
Sixth Form
Whole School