'Mary Poppins'
Theatre visits offer an inspirational way to bring drama lessons to life, to explore the world of theatre which comes alive when plays are performed in front of an audience. Emily Delargy, the St Augustine's Priory 16+ Drama Scholar, reports on the recent theatre visit of Senior pupils to see 'Mary Poppins':
'On Wednesday 5th February 2020, some pupils from the Drama Gifted Pathway, Ms Brown, Dr Higgins, Mrs Mackay, Ms Hosten-Sandy and Ms Naylor went to see 'Mary Poppins' at the Prince Edward Theatre, directed by Richard Eyre with a truly spectacular set design by Bob Crowley. The production was both beautifully heart-warming and extremely witty with the irrepressible Charlie Stemp giving a magnificent performance as the lovable cockney, Bert.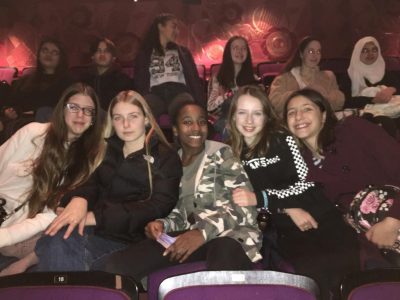 As a self-confessed musical theatre addict, I truly adored Zizi Strallen's performance as the enchantingly mysterious Mary Poppins. Her performance was truly flawless, from her balletic yet slick movements to her mysterious air and she perfectly captured the inexplicable mysterious air of the heaven-sent Nanny. Her brilliant rapport with the children, Charlie Stemp and the other actors made her performance not only convincing but also at times encouraging and emotional.
Given our current political climate and the barrage of disheartening and upsetting news, this production is a perfect antidote, it is both exuberantly joyful and stunningly heart-warming. Thank you so much to Ms Brown for organising this trip, which was practically perfect in every way and to Dr Higgins, Ms Naylor, Ms Hosten-Sandy and Mrs Mackay for accompanying us to see this wonderful show.'
Categories:
Priory Post
Senior
Sixth Form
Whole School