Schools meet at St Augustine's Priory.
Mrs Knowles, Deputy Head, Juniors, tells us about the recent Building the Kingdom meeting held at St Augustine's Priory on Monday 25th November. Sr Judith Russi, Director of EducareM, was with us and led the day. EducareM supports Catholic education and leadership. They provide training and support for governors, head teachers, senior leaders and classroom teachers in the following areas:
The vision and mission of the Catholic Church in education.
Spiritual, moral, social and cultural education.
Governor training – understanding the role of governors in Catholic schools.
Supporting the head teacher in their role as a Catholic leader.
Formation and development for leadership at senior and middle levels.
Religious education and curriculum development.
Review and evaluation of the Catholic life of the school.
Supporting schools before and after OFSTED
Reviewing the Mission Statement – a whole school approach.
Sr Judith Russi
Mrs Knowles writes:
'Four of our delightful Lower II students presented a demonstration on filtering water to teachers from various local Deanery Catholic schools attending Building the Kingdom today with Sister Judith Russi to show how we can help poorer families in disadvantaged countries have accessibility to clean water. They asked the group of educators, including Headteachers, deep questions to arouse intellectual thinking such as 'Whose responsibility is it for everyone to have fresh water?' and 'Who owns water?'
To view the video of this presentation please go to:
https://twitter.com/i/status/1198991533200084993
This cross-curricular approach to learning is embedded in our curriculum framework at St Augustine's Priory to facilitate our girls to be the best versions of themselves and transform society as powerful leaders of the future. The water purification experiment was not isolated in science but profoundly connected to RE, Maths, Geography and History.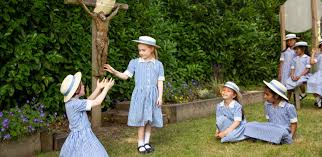 Knowledge and its application is much more meaningful when it can transfer across different disciplines and foster a greater investment in learning. Four of our Prep III students then came to introduce themselves to the group to talk about what they do in their roles as Fitness Friends, Eco Warriors, Prayer Prefects and Healthy Eating Helpers! They defied age and spoke with confidence, a real sense of who they are, and what they can contribute to the world in which they live. In attendance today were educators from Mount Carmel, St Anselms, Saint Christina's, St Vincent's and Our Lady of the Visitation.'
Categories:
Faith Life
Junior
Priory Post