Sports Captains' Leadership Development
On Friday 13th September 'Girls Go Gold', a Sports Captains Leadership Development Conference, took place in Sheffield and girls from Upper V – Upper VI took part.  Here, Isabel Bathula and Joanna Doran (Upper V) report on their experience.
'On the second Friday of term the PE department organized a trip for the Sports Captains and the PE A Level students to attend a conference which was aimed for English girls' schools to participate in activities and lessons that are not common in all schools. This took place at the English Institute of Sport, Sheffield.
Miss Cross led this trip and accompanied Eliezer Elliott (Hockey Captain), Trinny Dobson (Netball Captain), Isabel Bathula (Junior Sports Captain), Joanna Doran (Senior Sports Captain), Madi Fisher (A Level student) and Emilie Walsham (A Level student) to Sheffield. We took part in many activities throughout the day and listened to many influential female sports personalities.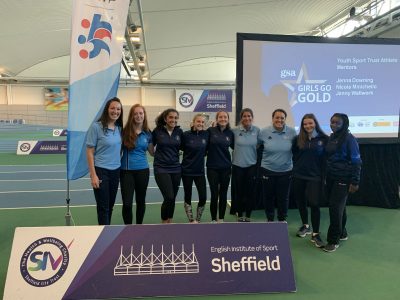 In the morning we all met at Kings Cross Station at 7.10 am. From here we had a two-hour train ride to Sheffield and arrived at the University at 10.00 am.  As opening keynote address speaker we were privileged to hear Dame Katherine Grainger.   Former rower Dame Katherine has achieved five Olympic medals, including a gold from the London Olympics and is also a six-time  World Champion.
She shared her journey of highs and lows with us and emphasized the fact that we won't always succeed at first, but we must always try our best and use our mistakes to improve. Our first event was on sports business and we worked with girls from other schools such as Durham High and Northwood College to create a campaign to increase the amount of female footballers in society. To do this we used the de Bono 6 thinking hats to make sure we stayed on topic. These hats were:
Red hat – The emotions and reactions of others
Blue hat – Process control
Green hat – Creativity
Black hat – Risks, he possible negative outcomes
White hat – Facts
Yellow hat – Positive thinking, seeing all the benefits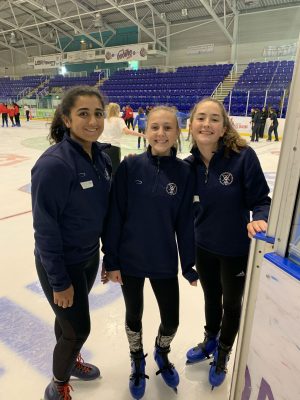 After lunch our group split up into two, for our practical session. This consisted of ice-skating and high ropes. Those who battled the terror of high ropes ended up finding it fun and useful, as they conquered their fear of heights. Those who broke ice on the rink had sore feet for days and bruises on their legs owing to them learning new skills in a different environment. On the whole both groups thoroughly enjoyed their practical activities and realized that some sports are just not for them!
Our final session of the day was our recreational session. Here the same two groups split up, one going to a strengthening and conditioning class and the other a spinning class. Conferring after the events, we realized that neither activity were particularly easy on our bodies but we made great bonds with the pupils of other schools and one another as we are one team.
The day concluded with a talk from two famous female international athletes:
The first athlete who we had the opportunity to listen to was Jenna Downing, World Champion Inline Skater. She explained to us how hard it was to compete as she was often the only female there, and this included the judges. This resulted in her position in competition to be one of the last which pushed her to try harder again and again until she reached her goal of World Champion roller-skater. However, during this period she had to overcome many obstacles – she found out that she had multiple sclerosis and this led to her losing feeling in her body. She explained to us how she persevered and how she will have good days and bad days.
Our second athlete who spoke to us was Nicolette Breeze, Olympic gold medallist for the Jamaican Bobsled team. She as well explained her ups and downs throughout her career. However, unlike Jenna Downing, before she entered the world of bobsledding she was a National Track Runner until one day in her track career she was asked if she had ever tried bobsledding and if she wanted to compete for Jamaica. She had never heard of this sport and agreed to take the chance on trialing for this once in a lifetime opportunity. She got into the team and trained for the Olympics where they won against China by a small margin.
Overall we are thankful to the PE Department for arranging this visit as we thoroughly enjoyed it and learnt new skills. We were all touched by the athletes who took the time to talk to us as we are all inspired to never give up, always persevere and grasp every opportunity presented to us.'
Categories:
Priory Post
Senior
Sixth Form