'My First Half Term in the Seniors'.
Anaya Garr, Augustinian of several years standing, this year joined the Seniors and is in her first term in Form III.  She is one of our Form III academic scholars and has written the following article which gives an insight into joining the Seniors from a student's perspective. Following on so closely from our recent Open Day, Anaya's perspective will prove inspiring to those pupils considering joining us!
'I have thoroughly enjoyed my first half term in Senior School. I have had many memorable and exciting experiences already.
So far, my best experience has been the Priory Farm! I have enjoyed being able to go and spend time with the animals and having the freedom to be able to go to the farm after school, break time and lunch time. Going to the farm has taught me responsibility and independence. This is because I have a responsibility to look after the animals and make sure that they are happy and safe.
I have enjoyed strengthening and making new relationships with my classmates. Although I miss my old friends, I have developed new friendships with other girls.
Another experience I have enjoyed is the "Your Life, You Choose" day, jointly held with Durston House. On this day, we were informed about the dangers of the modern world and how to keep safe. We also learnt about what is wrong and what is right. I also enjoyed this day as it gave me the opportunity to meet people from the other school.
An experience that has been truly helpful is the "Big Sister, Little Sister" scheme. It has helped me feel more comfortable speaking about my worries and being able to talk to older girls in the school.
One of the best aspects of Senior School life, has been being able to have the choice to eat my lunch outside. This has been exciting for me because I love the outdoors and being able to have a picnic every day!
So far, Senior School has been an amazing adventure and, I'm hopeful, has many more other adventures waiting for me.'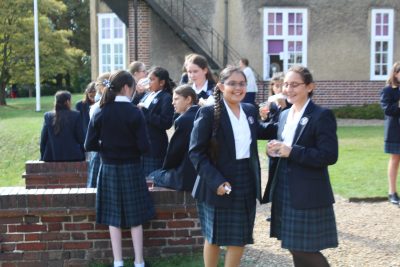 Categories:
Junior
Priory Post
Senior