Chiswick Young People's Poetry Competition.
We value poetry at St Augustine's Priory and our record of prize-winners in competition is outstanding. This year Lower IV showed the way and Hannah, Lower IV Alpha, here writes of her experience of the award ceremony at the 2019 Chiswick Young People's Poetry Competition.
'On 13th September Hala, Alexandra and I attended the Chiswick Young People's Poetry Competition prize-giving. The competition exists to encourage young people to enjoy creating their own poems on a topic that appeals to them.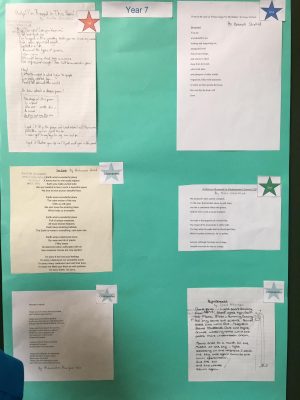 Hala won third prize with her poem 'A mistress replies to sonnet 130', Alexandra won highly commended for her poem 'A message to myself' and I was awarded second prize for my poem 'Bookshelf'.
We were all really excited and nervous to receive our awards we were all surprised and grateful to receive a bag full of books and notebooks. The speaker created a found poem which means he used a line of every single person's poems to create an entirely new one.
The special guest at the awards was Anne-Marie Fyfe who is a former chair of the Poetry Society and she organises festivals such as this one and writes books and poems.
This was a really lovely evening and we enjoyed it a lot and we want to thank Mr Elder for sending in our poems. We hope we made St Augustine's Priory proud.'
Congratulations to Hannah, Hala and Alexandra for such an achievement.
Categories:
Priory Post
Senior