'From shadows and images into truth'.
Rome will see thousands of visitors on Sunday 13th October as this is the day that Blessed John Henry Newman will be canonised. Along with Miss Johnson, our SENCO, Cardinal Vincent Nichols will lead a delegation of seventeen English and Welsh Bishops and the Prince of Wales will also attend.
Born in London in 1801 Newman attended the Great Ealing School, founded in 1698 and situated in St Mary's Road, this school closed in 1908.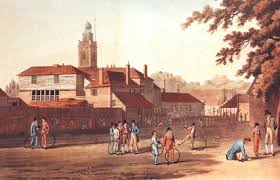 Great Ealing School
After school Newman attended Oxford University and in 1843 was received into the Roman Catholic Church. In 1847 he was ordained a priest and in 1879 was made a cardinal. Cardinal Newman died in August 1890. He was held in great reverence for his sincerity and simplicity of life and engraved in Latin on his tombstone are the words: 'Ex umbris et imaginibus in veritatem' – 'From shadows and images into truth'.
At St Augustine's Priory we are proud to have a piece of material that belonged to Cardinal Newman, something which is precious to us and was given to our community of nuns on Cardinal Newman's death in 1890, when the community resided in Paris.
The following words of Cardinal Newman are often spoken at the annual Sixth Form Leavers' Mass in the summer, and are a wonderful encouragement for us all:
'God has created me to do Him some definite service. He has committed some work to me which He has not committed to another. I have my mission. I may never know it in this life, but I shall be told it in the next. I am a link in a chain, a bond of connection between persons. He has not created me for naught. I shall do good; I shall do His work. I shall be an angel of peace, a preacher of truth in my own place, while not intending it if I do but keep His commandments. Therefore, I will trust Him, whatever I am, I can never be thrown away. If I am in sickness, my sickness may serve Him, in perplexity, my perplexity may serve Him. If I am in sorrow, my sorrow may serve Him. He does nothing in vain. He knows what He is about. He may take away my friends. He may throw me among strangers. He may make me feel desolate, make my spirits sink, hide my future from me. Still, He knows what He is about.'
Categories:
Faith Life
Junior
Nursery
Prep
Priory Post
Senior
Sixth Form
The Association
Whole School