A great finish to the sporting calendar.
June and July see a plethora of sporting celebrations at St Augustine's Priory. In addition to the regular fixtures and clubs we have the Nursery, Preps, Juniors and Seniors Sports Days and our Sports Awards evening. Weeks this year which were filled with sunshine… and sporting splendour.
First was the Nursery Sports Day which started off the sports days with a flourish. All the children gathered on the Astroturf where a variety of sports took place, from Grecian to egg and spoon to running. An appreciative audience of parents and Preps watched and our Priory 6 were on hand to assist.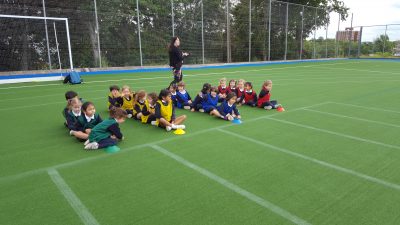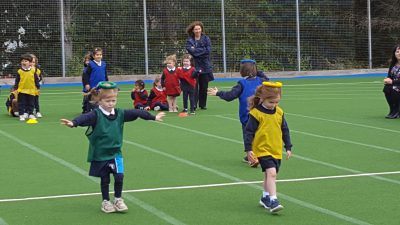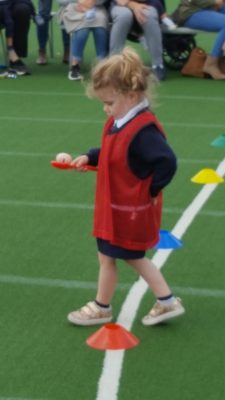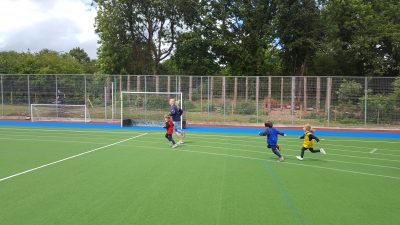 This was but the start, Mrs Gosling, Director of Sport, reports on the following sports days and Sports Awards evening:
'Senior Sports Day was held this year on Thursday 20th June. The sun shone and the Senior Sports Day lived up to all expectations. With the introduction of new events – 300m and Tug of War there really was an event for everyone. The morning heats were well contested and highlights were the Lower IV high jump competition in which three competitors jumped 1.30m, the Form III javelin with two throwers contesting to hold the school record and the 1k walk which saw some extremely close races. Overall, the day highlighted the athletic prowess of our girls and St Gabriel's House ended up victorious. Sixteen out of thirty-two records were broken and there were several girls winning multiple golds and breaking several records. In the end the Highly contested Victor Ludorum for the most outstanding athlete went to Olivia Sparks. Throughout the day we also recognise girls who put in effort and really embody the ethos of Sports Day. This year's Spirit awards went to: St George – Sofia Diaz, St Michael – Dana Taba, St Raphael – Katie Jacks and St Gabriel – Emily Gharabegi.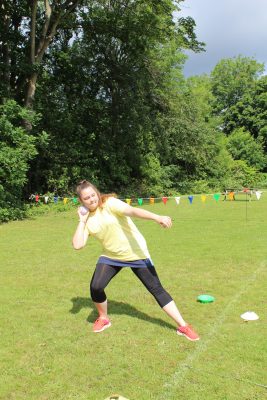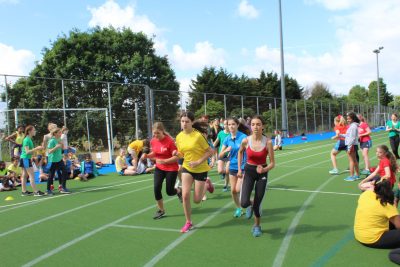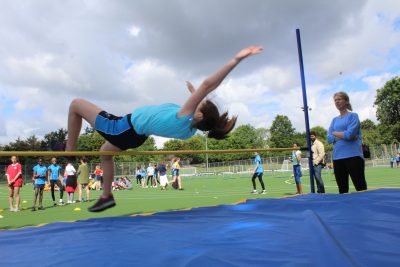 The Preps and Junior Sports day was on Tuesday 25th June and the weather or girls didn't disappoint!. Upper IV were ready and raring to go by the time the first events started. They demonstrated great enthusiasm and leadership to lead the girls though their events, demonstrating the fantastic community that we are at St Augustine's Priory. The Preps took part in seven events and the Juniors in ten events which were a mix of traditional sports day activities such as hurdling and sprinting to more light-hearted races such as the egg and spoon and Grecian. The girls demonstrated power, speed, balance, endurance and many more qualities to compete in such a breadth of activities with great determination and focus. Fourteen records were broken throughout the day with St George's House retaining their title. Molly Tracey was awarded the Victor Ludorum Trophy and the Spirit awards went to Hayley Irvine (St Gabriel) Ahilya Fenwick (St George) Connie Sewell (St Michael) and Arianna Shah (St Raphael).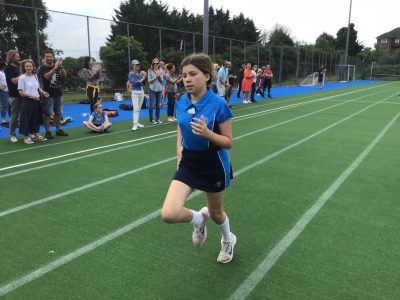 We also saw the parents involved in two highly contested parents' races and then the staff were cheered enthusiastically by all the girls in an egg and spoon race! This was a fantastic community event in which all girls should be proud of their performances and efforts which contributed to their Houses.
The culmination of our summer season was our annual Sports Awards evening on Tuesday 3rd July when over 200 girls and their families attended. This was a brilliant event following some of our best achievements to date, both as teams and individually. We welcomed England Cricket Player Beth Morgan who delivered an inspirational speech which highlighted the highs and lows of elite sport including topics such as resilience, determination and motivation.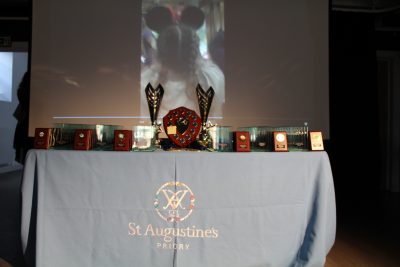 The awards ceremony followed which included speeches from our sports captains Joanna, Isabel, Trinny and Eliezer. All spoke brilliantly using inspirational quotes and highlighting what sport means to them, demonstrating why they have been selected for these roles. We know they will continue to be great role models for the younger girls. Awards were given to girls from Lower II – Senior level in a variety of sports including Netball, Hockey, Gymnastics and Athletics. Most Improved and Player of the year were awarded in all sports, and the girls demonstrated excellent sportsmanship supporting all the award winners jubilantly.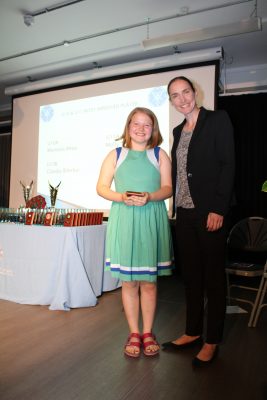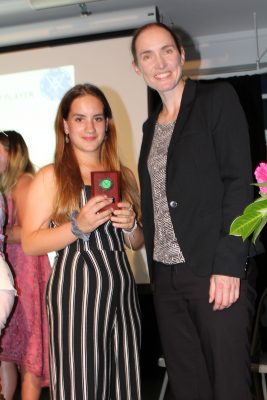 Beth Morgan with some of our award winners.
Our main awards of the night were given to girls who perform at the top level and demonstrate outstanding commitment and contribution to both school sport and sport outside of school.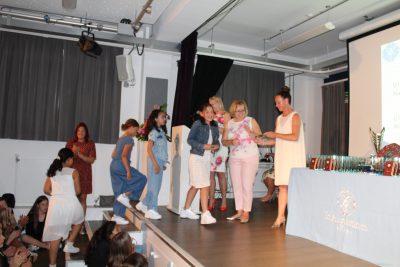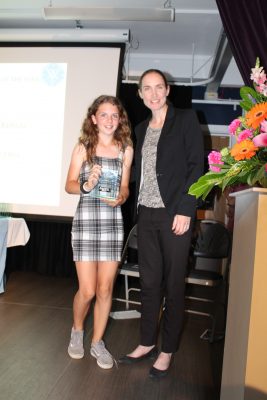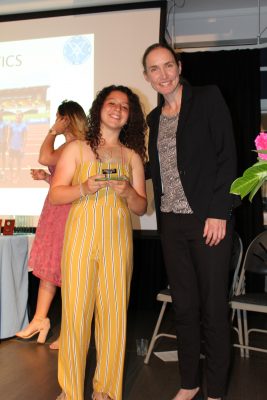 Beth Morgan with some of our award winners.
Special recognition was given to Sofia Krunic for her performances in Judo in which she recently won LYG gold and has represented Great Britain. Amba and Siya Sehgal were also recognised for their individual endeavours climbing Snowdon for charity. The Team of the Year was awarded to the U13 Hockey Team for a consistent season which included victory in the Society of Heads Hockey Tournament. Isabel Bathula, Joanna Doran, Solaris Salvucci and Ireoluwa Sangosanya were recognised for their outstanding contribution to school sport and Ilona Piesakowska and Abigail Bathula for their outstanding commitment. Our Junior Sportswoman of the year was Sienna St Paul who has had a brilliant season in a variety of Sports, specifically netball and our Senior Sportswoman of the Year was Olivia Sparks who has had a fantastic season not only in Cross Country where she won Gold in the Ealing Championships but represents Middlesex in Athletics and Hockey.
A fantastic evening all round and we couldn't do it without our committed and knowledgeable coaching team and PE Department. Here's to another great season next year!'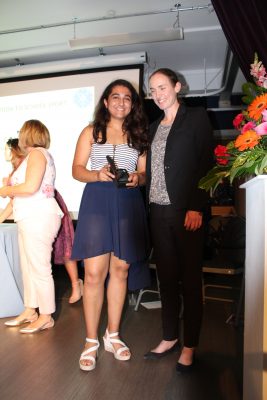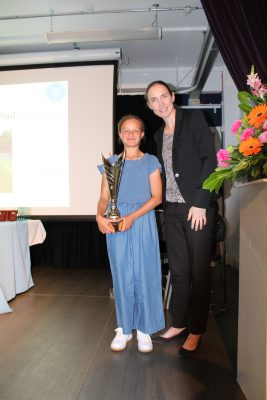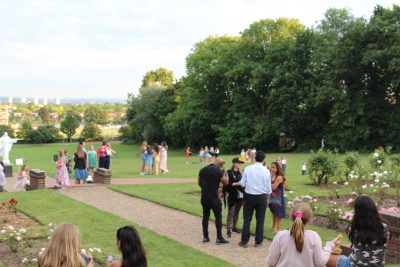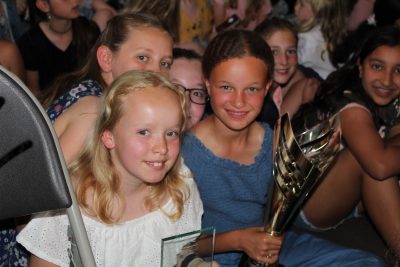 Categories:
Junior
Nursery
Prep
Priory Post
Senior
Sixth Form
Whole School