Travelling back to the past.
Apart from a time machine, a great way for our pupils to visit the past is through a workshop and here, Miss Brown, Upper I Form Teacher, reports on the recent workshop Upper I enjoyed as part of their study of the Anglo-Saxons:
'On Tuesday 19th March, Upper I participated in an outstanding workshop entitled 'A Day in the Life of an Anglo-Saxon'. This workshop linked directly to our current History topic 'Anglo-Saxons'. We were delighted to meet our Anglo-Saxon for the day 'Ash' who surprised us upon arrival in the Hall by leaping out from behind an open door. Sarah Kamar stated "My favourite part was when Ash entered the hall shouting whilst dressed as an Anglo-Saxon. I screamed but I liked it because he looked so real!". Aliyah Khan added, "When Ash, the Saxon, came in he surprised us by shouting – we were all really scared!".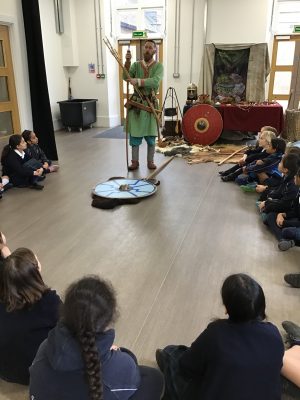 Over the course of the day we took part in a range of activities including traditional Anglo-Saxon games, investigating the purpose and origins of Anglo-Saxon artefacts and re-creating an Anglo-Saxon burial.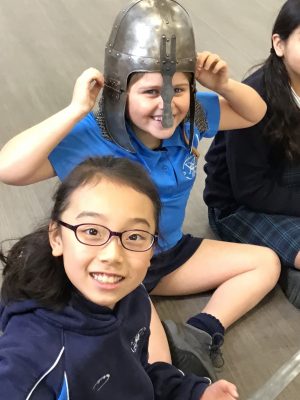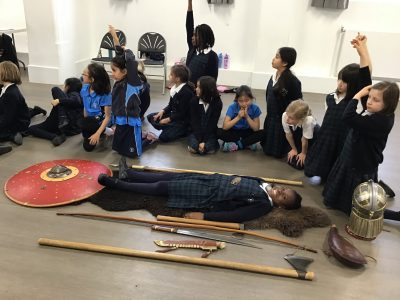 We also enjoyed using drama to retell the story of Beowulf. "The Beowulf drama was really fun and I enjoyed playing the main character" Kiara Cui explained.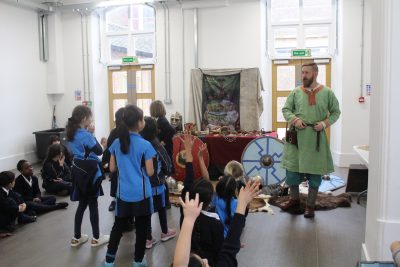 We were all dazzled by the array of weapons Ash showed us and were impressed with how skilled the Anglo-Saxons were. "All of the weapons were very life-like. I was so impressed!" Enya McDermott said. We had a wonderful day and certainly learned a great deal of lessons for life from our Anglo-Saxons workshop.'
Categories:
Junior
Priory Post
Whole School