Following St Augustine.
Our patron saint, St Augustine of Hippo, had this to say about education:
'Education is the food of youth, the delight of old age, the ornament of prosperity,
the refuge and comfort of adversity, and the provocation of grace to the soul.'
St Augustine of Hippo
At St Augustine's Priory we are passionate about instilling a love of learning in all those who pass through our doors and would like to share with you the following prayer which encourages us to relish the joy of learning, of stretching our boundaries and rejoicing!
For the Joy of Learning
God, we give thanks for the joy of learning,
For the love of teaching and being taught,
For the gift that connects us to You,
To each other
And to Your Divine word.
Your wisdom is near to us,
In our hearts and in our mouths,
In our hands and in our lives,
So that we may teach it to each other
With humility and love.
Hear our prayer for those who teach and learn,
Bringing new light to Your people Israel.
Make the moments together a celebration.
Let heaven pour wisdom and strength through them
So that they overflow with enthusiasm and wonder
Drawing others into Your service.
So that when we witness the love of learning
Our souls turn back to You for wisdom.
Together, we offer this journey back to heaven,
And rejoice.
© 2017 CCAR Press from This Grateful Heart: Psalms and Prayers for a New Day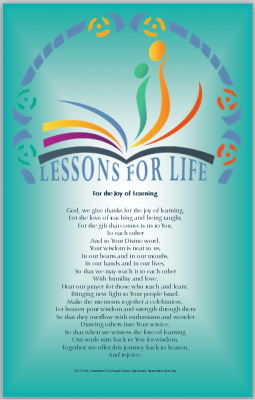 Categories:
Faith Life
Junior
Nursery
Prep
Priory Post
Senior
Sixth Form
Whole School