The Chapel fills with sound!
Our annual St Cecilia concert took place on Thursday 22nd November this year in the Chapel, held on the feast day of the Patroness of Musicians. We celebrate this date every year, but this year's concert was particularly special as it was in remembrance of the centenary of the ending of World War I.
Members of the audience were greeted by our World War I 'military jacket' as they passed through the Chapter Room on their way in to the Chapel. Suspended from the ceiling, this beautiful jacket was put together under the auspices of the Art Department utilising information and emblems reminiscent of World War I.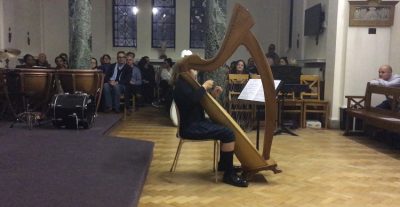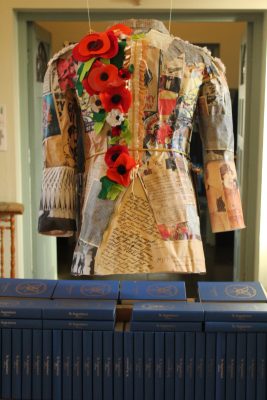 Students in Upper II, Lower IV and Upper IV opened the ceremony with a recital of 'Train' by Helen Mackay. 'Train' is an emotive poem about a young family of three who have come to the station to say goodbye to their father who is leaving on the train to fight on the front line. The students were dressed as children holding teddy bears and as passengers at the railway station who witnessed the emotional scene of the family saying their goodbyes. The train which the father is on takes a while to start which makes his departure even more unbearable for the family and for those watching and wishing for the train to leave to end the agonising scenes of goodbye.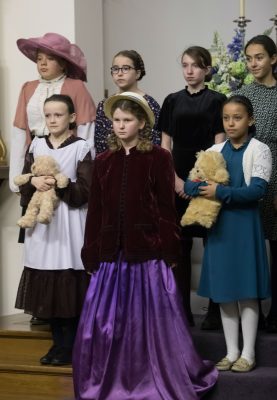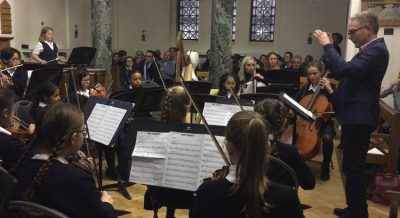 This poem was followed by a stunning performance of Reverie by M. Grandjany on the harp by Claudia Bileckyj. There was complete silence in the overflowing Chapel as the audience was captivated and enchanted by the beautiful and moving sounds of the harp.
We enjoyed wonderful performances from the Flute Ensemble, Senior String Ensemble, Senior Choir, Junior Orchestra and the Scholars' Ensemble, all of which played pieces related to the war.
Whilst the Junior String Ensemble played 'It's a Long Way to Tipperary' and 'Pack Up Your Troubles', the Junior Choir sang the lyrics with great passion and wide smiles on their faces. The performance was complete with actions as the girls acted out the words of the songs, to the delight of the audience.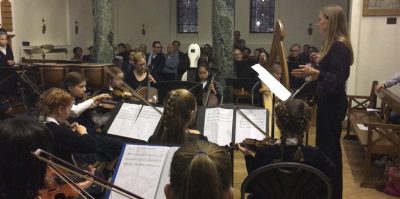 The penultimate recital was sung by the Chamber Choir from the gallery singing 'In Paradisum' from Fauré's Requiem. The Senior Orchestra closed the ceremony with a mighty rendition of Elgar's Pomp and Circumstance and also his 'Nimrod' and the girls received huge cheers as they took their last bow of the evening.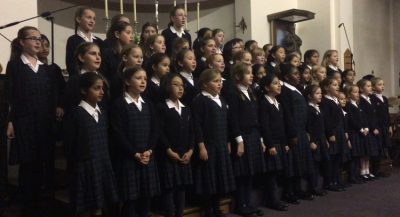 Thank you to Dr Higgins, Director of Music for organising yet another hugely successful concert and a fitting tribute to the lost youth of World War I. We are already looking forward to next year's concert.
Categories:
Junior
Priory Post
Senior
Sixth Form
Whole School