Mr W Scott.
We are delighted to welcome Mr W Scott who joins St Augustine's Priory as guitar teacher. His playing can be heard at https://www.youtube.com/watch?v=7PW2EIKZseU where Mr Scott plays 'Three Poets', composed by William Lovelady, and inspired by three poets who died during combat in World War I: Wilfred Owen (English poet), Charles Péguy (French Poet) and August Stramm (German Poet). Mr Scott says, 'Lovelady captures the character of each movement, the first a joyful English piece, the second a romantic movement with thick Poulenc-esque harmonies and the third with dark German chromaticism. (Wilfred Owen 1893 – 1918 Charles Péguy 1873 – 1914 August Stramm 1874 – 1915).' Mr Scott also has a website at https://www.willscottguitarist.co.uk/
Mr Scott writes:
'It is an absolute pleasure to be part of the St Augustine's Priory instrumental faculty. For a teaching artist, it is really lovely to teach in a great school with such beautiful grounds which takes you away from the hustle and bustle of London life. I am looking forward to teaching guitar at the school and introduce the wide variety of things the guitar can offer. Away from the one to one lessons, you have the possibility of performing the guitar solo, in duos/trios, guitar ensembles, bands, backing guitar for singers etc. along with many genres.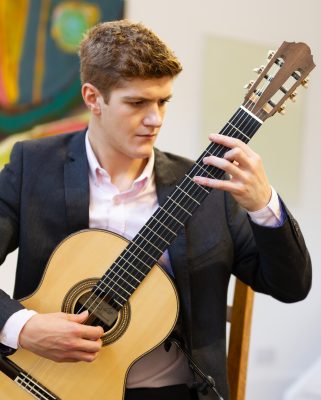 I recently graduated with First Class Honours from the Royal College of Music where I studied classical guitar under Gary Ryan, Carlos Bonell and Chris Stell and jazz guitar with Milton Mermikides. I have also taken part in master classes with internationally renowned guitarists such as John Williams and Craig Odgen.
Originally from Tunbridge Wells, I began playing the electric guitar at the age of eight and with encouragement from Jimmy Page, took up the classical guitar, aged eleven. I was awarded a scholarship to Bethany School where I studied with Andrew Keeping, achieving a distinction in my ATCL diploma. During my school years, I played in Guitar Circus, one of the UK's most prestigious youth guitar ensembles and played electric guitar in the Kent Youth Jazz Orchestra.
I was the winner of the 2014 mid-Kent Young Musician of the Year and Tunbridge Wells Recital prize and recently won the 2018 Royal College of Music guitar prize. I was recently accepted onto the Young Artist Platform as part of the International Guitar Foundation. In June, I premiered William Lovelady's Passing Time, dedicated to the late Roland Dyens at Linden Hall Studio, Deal. I have also performed new contemporary guitar works at the National Portrait Gallery and premiered a commissioned work for the Meraki Guitar Quartet as part of international women's day.
I have played at the International Guitar Festival in London and performed at venues such as Kings Place, South Bank Centre, The V&A and Elgar Rooms and the Royal Albert Hall. My guitar playing has also been used for a BBC documentary about the Portuguese artist, Paula Rego. I have also played in musicals across London, including West Side Story, Sister Act, Billy Elliot and We Will Rock You.'
We know that Mr Scott will be happy at St Augustine's Priory and look forward to hearing his students perform!
Categories:
Junior
Prep
Priory Post
Senior
Sixth Form
Whole School