The Assemblies focusing on Ealing people during the First World War continued on 7th November with Amina Radi, Lower V and her presentation on brothers Albert and Harold Auerbach – the image at the head of the article is of Albert. The story of these two young men has a particular resonance for Augustinians as Harold's daughter, Patricia, attended St Augustine's Priory.
Amina takes up the story:
'When WW1 started in November 1914, 100 men an hour signed up. By the end of 1914 over one million men were going to war. Eventually, an estimated 37 million people died during the war.
Luckily, the British army was able to receive rapid medical attention unlike the French who sometimes waited up to 24 hours before they were seen. As a result 7 to 8 million deaths were combat related.
Two brothers from Ealing were determined to serve in the war: Albert and Harold Auerbach. One survived and lived a nice life in Ealing, the other one died. So was it fate or God? They had a seemingly idyllic family life, before the sad signs of war were approaching.
Here's Albert (on the right) and Harold (on the left) posing in their uniform with their mother Ellen in their garden.
You may recognize where they lived at 1 Carlton Road because on the left is how it looks today and on the right is how it looked during the time of World War I.
The elder brother, Albert, joined the University Officers' Training Corps on the very first day of the war. He served in various places such as Egypt. Like many other men, he was sent home in 1916 with shellshock and dysentery. Exactly four years to the day he signed up, on 1st September 1918, a shell in France on the Somme killed him. His sister Lucy made her own personal pilgrimage to the Somme area in September 1920 to see where her brother had fought and died.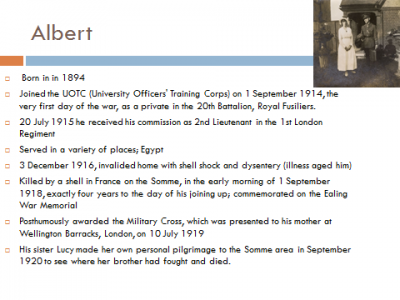 It is clear to see the effects of war are still there. But the evidence of devastation and destruction are obviously less apparent, so our experience last month when we visited the Somme was less intense than Lucy's impression. When people remember war they paint a picture of major bloodshed. However, nearly 9 out of 10 British 'Tommies' survived the trenches. Today 72,000 people are commemorated on the Somme including Charles Dickens' grandson, Cedric Dickens. As you can see this structure where the names are written was the most appropriate design to accommodate all the names.
The term 'shellshock', known today as post-traumatic stress disorder, "war neurosis" or "combat stress", came about in 1917. By the end of the war 20,000 men still suffered from the horror of World War I. 80% of shellshock victims were never able to return to military duty. Many men suffered the symptoms of shell shock without having been on the front lines. Officers suffered the most; they were forced to suppress their emotions for their men so shell shock was four times higher among them than their soldiers. Treatment for shellshock victims was often harsh because it was seen as an emotional weakness and included: solitary confinement, electric shock treatment and shaming. More fortunate soldiers were treated with hypnosis, massages and dietary interventions.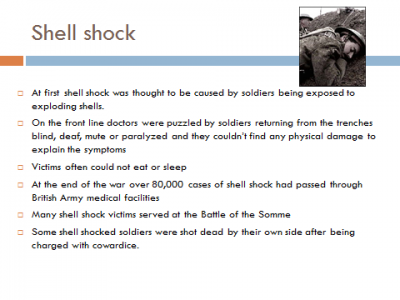 Harold Auerbach's daughter recently discovered her father's Campaign War Medal for sale on e-bay. It had been missing for years and was discovered in a drawer in Plymouth.
Harold was born in Ealing and baptized in St Peter's church. He attended Durston House preparatory school. He left school in 1915 and wanted to sign up for the army. As he was declared unfit for service that year he joined an electrical company of the Royal Engineers.
We know that he served abroad because he was awarded the British War Medal, which was awarded to all who had served for four weeks or more abroad or had been killed. In fact he served in France the year after he was awarded his wings. He survived the war and was awarded his Campaign War Medal for either serving in the Merchant Navy or making a voyage through a danger zone. After the war Harold was part of the occupying forces in the Rhineland. He lived in Ealing until his death in 1975.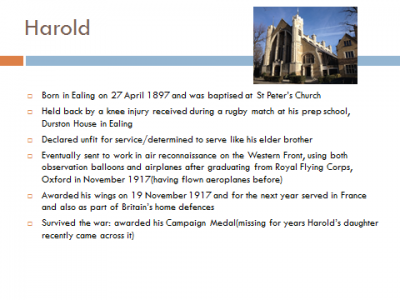 There are some detailed official aerial shots of locations in Belgium and Northern France, dating from 1917 and 1918, showing the local landscape with bomb damage and trenches. Here are two particularly striking photos showing the French town of Bailleul at different stages in 1918, before and after German bombing.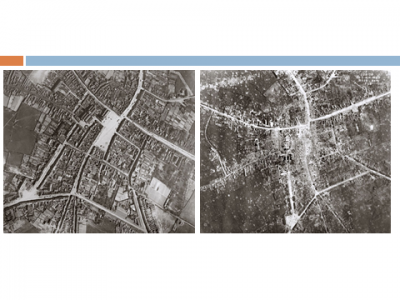 Let us pledge ourselves today to live as good neighbours, to honour the past, to care for all who are in need, and to live at peace among us and with all people.
All Lord God, Father of all, we pledge ourselves
to serve you and this neighbourhood,
to bring relief to all who are in need,
and comfort to the sad, lonely, and distressed;
Keep us ever mindful of the struggles
and achievements of former generations,
and of this place where we make our home,
now, and in the days to come.
Amen.'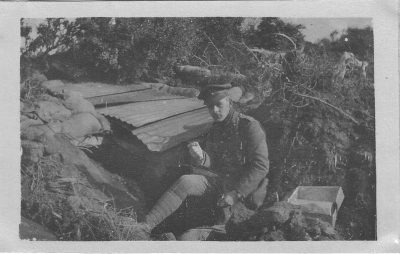 Albert Auerbach, first left, at the head of the column. Albert by a dug out, Suvla Bay, Gallipoli
If you are interested to discover more about Albert and Harold Auerbach do visit https://blog.maryevans.com/2017/04/one-familys-war-the-patricia-aubrey-collection.html
Categories:
Priory Post
Senior
Whole School