An evening to treasure.
On Tuesday 26th June, our Sports Awards Evening was held to celebrate our achievements in the sporting arena over the past academic year. Mrs Gosling, Director of Sport, takes up the story:
'On the evening of Tuesday 26th June we welcomed over 200 people from the St Augustine's Priory community to celebrate the sporting achievements of girls from Lower II to Priory 6 over the last season.
We welcomed our guest, Jodie Gibson, England Netball Commonwealth Gold Medallist, who had many key and inspiring messages for the girls which centred around working hard for yourself and driving for what you want. Throughout the evening the new Sports Captains, Madi Fisher, Poppy Hill, Amelia Phillips and Tamara Jankovich spoke with passion and from the heart about the importance of Sport and the benefits it has made to their lives and academic performance.
We celebrated the achievements in an array of sports including netball, dance, cricket and athletics, awarding most improved and performers of the season in each sport.
The evening culminated with our whole school awards, acknowledging outstanding commitment (Lana Fazel and Phoebe Bettis) and contribution to Sport (Madi Fisher, Mia Simpson, Wren Mortimer and Jo Hoesel).
The Most Valuable Players (Sienna St Paul and Vaisavi Kumaraverl), Team of the Year ( theU12 Netball Team) and Sports Women of the Year: Junior – Ireoluwa Sangosanya and Senior – Olivia Agrotis.
Despite the heat, the evening was a huge success and there were so many deserved recipients of the awards. This evening would not have been possible without all our coaches and PE staff who work long hours to ensure the girls have so many opportunities.'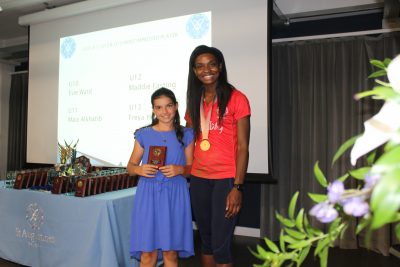 We were thrilled to receive the following comment from Jodie after the evening,
'I want to thank all the staff, parents and students for making Tuesday evening a wonderful evening.
I regularly visit schools across England to deliver coaching sessions and to present at awards evenings but after visiting St Augustine's Priory it has left a lasting impression. I really admired the students' passion for sport and it was lovely to see the girls playing rounders together when the awards ceremony had finished. They are all a credit to the school so thank you allowing me to come into your school and experience this.'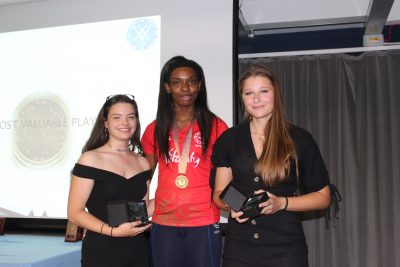 Categories:
Junior
Priory Post
Senior
Sixth Form
Whole School