An inaugural event.
Women's Wellness Week, held last week at St Augustine's Priory, was an incredible initiative, drawing together our community in awareness raising, discovery and education about how to make choices for a healthy and fulfilling life.
To that end we started the week with a powerful talk by Mrs Ransome (see article in last week's newsletter) who spoke to Seniors and Juniors about the importance of being aware of our bodies and health.
'Ask the Midwife: a question and answer session' for Seniors was held on Tuesday 12th June led by Ms Julia Melinek. She answered questions written by the girls about women's health and well-being and was able to give sensible advice and explanations on topics ranging from puberty to childbirth. Mrs Melinek also led a session on Thursday 14th June for Juniors called 'Embarrassing Bodies No More!' where she again took written contributions from the girls and responded to requests for information about issues ranging from difficulties in sleeping to adolescence. As Ms Melinek commented, 'Love your bodies and do not be ashamed of them'.
In addition to the sessions run by Ms Melinek, her daughter, Ms Bella Glanville also ran sessions. On Tuesday this began with a Nail Bar in Priory 6 run by Ms Glanville and Priory 6 which raised funds for the a-Sisterhood organisation. On Wednesday 13th June Bella spoke to Preps on 'I am lovely just the way I am' and also took part in an activity carousel led by Priory 6 girls as well as staff on 'The Myth of Perfection, Body Language, Body Games'.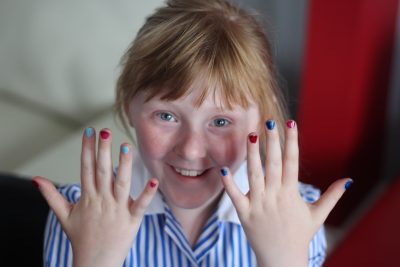 Ms Melinek and Ms Glanville make a powerful and inspirational mother/daughter combination. After spending twenty years as an opera singer Ms Melinek decided to retrain as a midwife and intends to become a doula, a birth companion who supports women and their families through pregnancy and childbirth. On this change of direction in her life she commented, 'We go through multiple metamorphoses and it was important to go for it 100%'.
Ms Glanville is on a gap year before studying for a degree in Psychology and several years ago founded the 'Lovekidz' foundation. She is a model and has also given two TED talks: one on the 'Myth of Perfection' and another on 'Embracing Uncertainty'. Added to this she also decided this year to enter the Miss Universe competition!
There were also talks from Magda Jenkins who spoke on Nutrition and Lizzie Rafii-Tabar and John Heathcote from The Royal College of Obstetricians and Gynaecologists spoke about Global Women's Health.
On Friday the week ended with a delicious Great Body Bake Off. After being judged, all entries were eagerly devoured at Little Break. The winner of the bake off was a wonderful confection with 'Women's Wellness Week' in icing on the top, baked by Priory 6 pupils Banu Ali, Siobhan Kingsland and Alekia Gill.
This inaugural Women's Wellness Week was a festival of learning and wellness, a valuable week where we all learned something about ourselves and how we work.
Categories:
Junior
Priory Post
Senior
Sixth Form
Whole School