Walking in solidarity.
Every year thousands of people around the world flee their home countries in a bid to reach safety. They risk separation from loved ones, great danger and sometimes death.
Next week we will be finding out about and sharing some of these journeys. Through CAFOD's 'Share the Journey' campaign we will be raising awareness and walking in solidarity with refugees worldwide and adding our total to that already walked.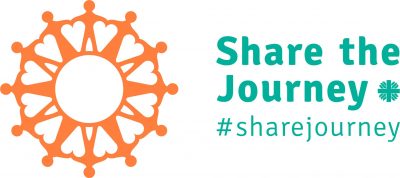 Those supporting the campaign had enabled CAFOD to reach their initial goal by June of 24,900 miles – the distance around the world. Now they want to walk a second time around the world and we at St Augustine's Priory are keen to help. Next week all classes will be walking twice around the school grounds, a distance of one mile, and on Thursday 21st June the Lower VI will be walking to Ealing Broadway. Each group of girls will have information on an individual refugee, so this is not just about walking, but learning about and accompanying someone on their journey.
We also will have the privilege of being accompanied – by a Lampedusa Cross. As CAFOD says on its website:
'Yet even seemingly small acts can make a massive difference. One example of this is Francesco Tuccio, a carpenter from the small Italian island of Lampedusa. When hundreds of refugees who were fleeing Eritrea and Somalia drowned off the coast of Lampedusa, he was moved to gather the driftwood from the wrecked boats and turn them into crosses, which he offered to survivors as a small but powerful symbol of hope'.
Our girls will be fortunate to walk behind one of these crosses as they take part in their pilgrimage.
Categories:
Faith Life
Priory Post
The Association
Whole School