A Time to Shine.
Learn a craft, discover a talent, find a passion! What will your child get out of Yourstage Drama this summer?
Did you know that there are fantastic children's drama courses run here at St Augustine's Priory during term time and the Easter and Summer holidays?
Yourstage Drama has been running successful courses for 10 years and currently offers fun and fabulous Saturday courses during term time as well as wonderful holiday courses during the long summer and Easter holidays.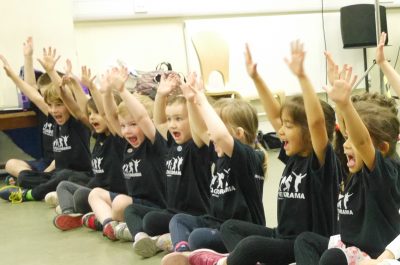 The company, run by St Augustine's Director of Priory 6 Faith Hagerty, offers courses for children from 3 to 16 and are taught by highly trained acting professionals and musical theatre specialists. They are an exciting, fun and stimulating way to let your children express themselves, each ending in a last day performance for family and friends.
'It is so lovely to see your kids (even when they are nearly teenagers) happily skip off to for a week in the holidays and develop not just drama and dance skills but teamwork, creativity and empathy too.' Debbie, April 2018
The courses all encourage confidence through creativity and welcome children of all abilities. They are a safe, fun, creative way to enable your child to find out how they want to shine. Yourstage is now taking bookings for the summer holidays and Michaelmas term time courses.
This Summer there are two, week long courses to choose from with different themes. Week 1 will produce a performance of Dream On – a funny and fabulous version of Shakespeare's A Midsummer Night's Dream. And week 2 celebrates the songs, dances and scenes from the West End and Broadway.
In the Michaelmas term there will be a Wild West theme for the Saturday classes with the younger children working towards an end of term show written by our talented Yourstage teachers and devised by the children.
Meanwhile the teens will be focusing on 'Acting for Film and Television' which will include for the first time (and at no extra cost) some fantastic workshops from industry professionals. The teens will end the course by making their own Western short film which will be presented to parents as their end of term show – yee haw!
Ms Hagerty's Yourstage team has recently expanded with two new team members; local digital mother Rebecca Hamano Cabot is now managing all social media, while St Augustine's Priory mother Rachel Agnew is leading the marketing team as the company moves from strength to strength.
Pictured are Faith Hagerty and her children, all regulars at Yourstage courses, as well as some course photos.
To book and for further information on all Yourstage courses, visit www.yourstagedrama.com
Categories:
Junior
Nursery
Prep
Priory Post
Senior
Whole School