Don't be mediocre!
"How little people know who think that holiness is dull.
When one meets the real thing, it is irresistible"
C. S. Lewis
April saw the publication of the latest Apostolic Exhortation of Pope Francis, 'Gaudete et Exsultate' – Rejoice and be glad, on the call for us all to be holy in today's world. Although the words 'holy' and 'whole' sound similar, they mean different things – holy being dedicated or consecrated to God, or sacred and wholeness is about forming a complete and harmonious whole. But the two can really be linked.
Mrs McDermott, Head of Religious Studies, recently delivered an assembly to the senior girls outlining Gaudete et Exsultate's main message:
'An Apostolic Exhortation is a magisterial document written by the pope. It's essentially a pastoral message the pope sends out to Catholics to highlight key points about a particular issue. The key issue of 'Gaudete et Exsultate' (Rejoice and be glad) is how we can be holy.
Pope Francis opens his letter with this:
"REJOICE AND BE GLAD" (Mt 5:12), Jesus tells those persecuted or humiliated for his sake. The Lord asks everything of us, and in return he offers us true life, the happiness for which we were created. He wants us to be saints and not to settle for a bland and mediocre existence.
Our community here at St Augustine's Priory definitely isn't one to 'settle for a bland and mediocre existence.' So Pope Francis is definitely speaking to us! The mains tips that Pope Francis gives us about being holy are as follows:
Be yourself – don't try to be an imitation of anyone else.
Be holy in the everyday tasks.
Don't gossip, don't judge.
Don't be mean – especially online!
See and act with mercy.
Pope Francis tells us to use the Beatitudes from the Sermon on the Mount as a 'road map to holiness', particularly focussing on the importance of, 'Blessed are the merciful, for they shall receive mercy.'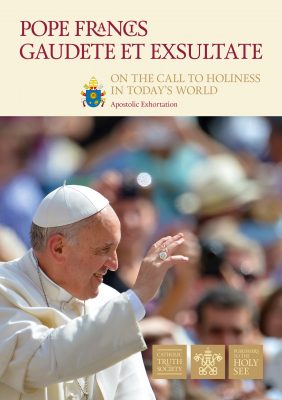 For the prayer in assembly the girls sat in silence thinking about this advice from Pope Francis:
We need the silence of prolonged prayer to better perceive God's language, interpret the real meaning of the inspirations we believe we have received, calm our anxieties and see the whole of our existence afresh in God's own light.
As they sat in silence they watched the following video which summarises key messages from 'Gaudete et Exsultate.'
Introducing: Gaudete et Exsultate
As St Paul says in his first letter to the Thessalonians: 'May God himself, the God who makes everything holy and whole, make you holy and whole, put you together – spirit, soul, and body – and keep you fit for the coming of our Master, Jesus Christ.'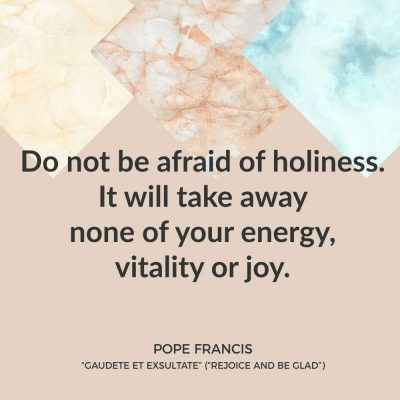 Categories:
Faith Life
Priory Post
Whole School