St Gregory's Nursery pupils meet our farm animals.
The St Augustine's Priory Farm is going from strength to strength, providing a wonderful learning environment for children of all ages, whether for science lessons, for those who plan to enter a career working with animals or simply for those who enjoy their company!
Last Friday, 18th May, we were delighted to welcome St Gregory's Roman Catholic Primary School's Nursery for our first Farm Tour. The first stop of the tour was to meet the ram and the two wethers where they heard an introduction to the farm by Mr Raffray who demonstrated how to feed the animals safely and explained that our sheep are special as they are a cross of two rare breeds, the Ouessant from the island of Ouessant, off the coast of Brittany and the Soay, from the island of Soay, off the coast of Scotland. Mr Raffray's introduction was accompanied by many squeals of excitement and great eagerness to jump straight into the pens with the animals.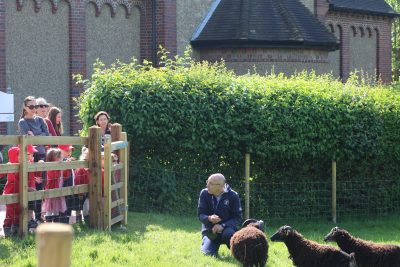 The children then moved on to the main part of Farm to meet Priory Farm Managers, Lily, Daisy and Katie who introduced them to T-Pex, the rooster, and the hens and Peppa, George and Cow (the three little pigs!) and the rest of the sheep, our ewes. The children (and parents) were impeccably behaved and embraced farm life wholeheartedly, brushing the pigs and feeding them some treats of apples, feeding the sheep and chasing the chickens.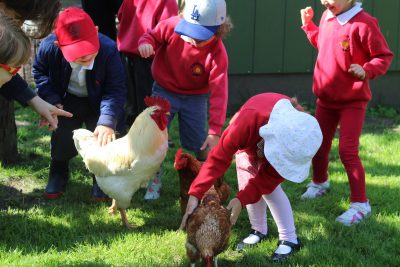 Every little pig needs brushing
The weather was glorious and so the children enjoyed free-play in the Prep Meadow, making the most of the climbing frame and pirate ship whilst enjoying chick and bunny shaped biscuits which were all gone in seconds! They also took home the latest must-have "I saw the Animals at St Augustine's Priory" Farm t-shirts!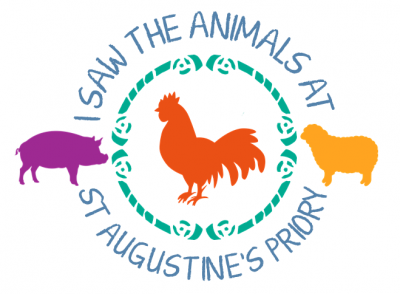 We received some very positive comments about our farm from our visitors, both old and young:
"The Priory Farm Managers were amazing with the children, they learnt all their names and were so patient and lovely! They are a real credit to your beautiful school".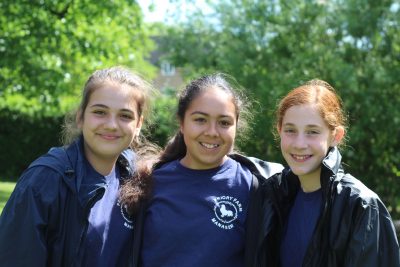 Our excellent Farm Managers
"The grounds are so beautiful, your school looks like a National Trust Park!".
"Thank you so much, it was such an amazing experience, your farm is the best we've been to!".
and from a member of the St Gregory's Nursery: "Can we come again?! Tomorrow?"
Categories:
Nursery
Priory Post
Senior
The Association
Whole School