Mr Elder, Poet, English Department.
If there is a space in your life then we can help you fill it by recommending Mr Elder's latest publication of poetry. 'The Space Between Us' won the Cinnamon Press Debut Collection and is described as "At times tender and at times laugh-out-loud funny, Elder seamlessly negotiates anything from the terrors of a BBC fact file to an ancient jeep in Mombasa. The canny spaces between statement and inference and the flawless cadence make for a truly scintillating, cutting-edge debut" (Daljit Nagra, BBC Radio 4 Poet in Residence), and a "beautiful and accomplished collection" (Hannah Lowe).
Lorraine Mariner comments, "'The Space Between Us' mines the gap between aspiration and reality, appearance and truth, the said and the unsaid, but never takes itself too seriously. With wit and tenderness, Neil Elder explores love, loss and the absurdities of life on earth, bridging the chasm between disappointment and hope. As the narrator of his poem 'Flatpack' declares, "I've learnt the ways to improvise".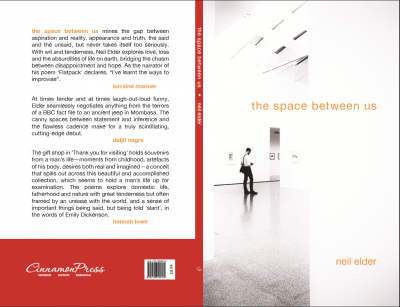 The poems in this new collection explore the gap between what is said and unsaid, the gulf between appearance and truth, aspiration and reality. Mr Elder said "I'm thrilled to have won the debut collection prize and would love to hear what people make of the poems. Often I'm surprised at the poems people most identify with which really proves the notion that the gap between what we know and what we think we know about each other, our world, and even ourselves is wider than we might like to admit." For more about Mr Elder's work please see https://neilelderpoetry.wordpress.com/
The collection may be purchased direct from Mr Elder (this will save paying P&P) for £8.99. To get a flavour of the book you might like to look at the promotional video that was made by St Augustine's' very own Lizzy Higham; testament to her skill and sensitivity, and also to the wonderful relationship fostered between staff and students.
Here is the link to the promotional video for the 'The Space Between Us': https://drive.google.com/file/d/1NgIdDbJXKJrlaBEOxp_NptWukczKBd9i/view
Here are two of the poems from Mr Elder's latest collection to whet your appetite!
Like My Daughter Says
If, like my daughter says,
you are now a million particles
orbiting in space,
may you keep on spinning.
Or else as I look out tonight,
I hope you fall like snow
and settle for a while.
At Sea
Whenever we reached the marram grass,
away from parents' eyes and pressing jumble
of the caravan park,
we knew we'd arrived.
Like corks out of bottles we raced off the dunes
in such hurry that I often missed my footing,
coming down in a buckled heap.
Leaning forwards, wrapping your hand around my forearm,
you'd always get me on my feet.
Then we'd tumble into the sea,
delighted by the shocking cold,
being sure to keep our shoulders under.
We'd drift in the current,
carried unknowingly along the shoreline,
have to swim back to where towels
made a strip of sand our own.
Now when I drift too far,
I search for you among the marram,
try to grab your hand,
try to beat the current.
You may also like to view the website The Poetry Shed at https://abegailmorley.wordpress.com/ for more analysis of Mr Elder's latest work and further examples of his poetry.
Categories:
Junior
Nursery
Prep
Priory Post
Senior
Sixth Form
Whole School