Introducing Nicolás Aramayo.
You may remember from earlier Priory Posts that Ms de Lahitte, teacher of Spanish, runs an initiative to support Fundación Anpuy, an organisation which exists to provide educational and social opportunities for children, adolescents and young people from deprived backgrounds. Here she tells us of the progress so far:
'At St Augustine's Priory we have the privilege of receiving a solid education and of having the opportunity to learn about the Spanish language and culture. However, many Spanish speakers do not have the same opportunities.
The Modern Languages Department at St Augustine's Priory decided to change the game!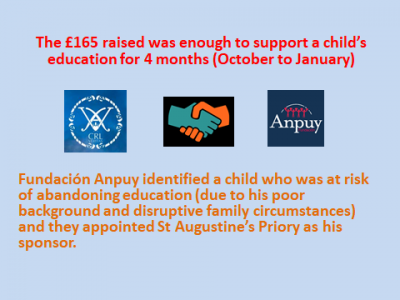 Introducing Nicolás Aramayo
Nicolás (Nico) is 9 years old and attends the school, 'Escuela Nicolás Avellaneda' in the city of Salta, in the north of Argentina. Nico lives with his six older half-brothers and sisters. His father left their home last August and hardly keeps in touch with him.
Nico found Year 2 very difficult and struggled to keep up with school work. He started attending the charity Fundación Anpuy on a daily basis, where he receives help with his homework and a teacher reinforces what the children have been learning at school. Nico also continued attending Fundación Anpuy during the summer holidays to reinforce his studies before the new academic year begins (the school year in South America runs from March to November, with no half term holidays). Nico is starting Year 3 this month.
At St Augustine's Priory last term we held a handicrafts sale which raised £165 and was enough to support Nico's education for four months (from October to January). We were pleased to receive the following message from Nico just before Christmas: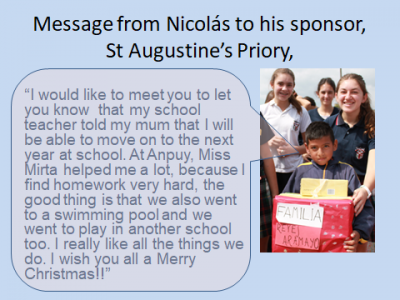 We hope that we can continue sponsoring Nico throughout this year. We will be holding two Spanish Film Nights: a Senior one this term (Ocho Apellidos Vascos on 22nd March) and one for the Juniors next term. We do hope that pupils will support this initiative by attending their Film Night and by donating on the day.
¡Muchas gracias!'
Categories:
Junior
Priory Post
Senior
Sixth Form
Whole School