Pope Francis: Gamechanger.
Mrs McDermott set girls a homework asking them to research Pope Francis and write an essay explaining why they thought he should be a role model for young people today. Dilichi Dieobi, Upper IVA, produced the following essay
'From being voted as Time's Person of the Year for 2013 to sneaking out of the Vatican to hang out with homeless Romans, Pope Francis quickly captured the love and support of people around the globe. He is known for his humility and concern for the poor.
Pope Francis is unique, not because he casually became the first pope to take a selfie. Pope Francis is not afraid to stand up for what he believes in and follow his heart.
Our Pope chose his papal name in honour of St Francis of Assisi, his birth name was Jorje Mario Bergoglio. He is our 266th Pope and has held that office for five years. Jorge Bergoglio was born to Italian immigrants, Mario Jose Bergoglio and Regina Maria Sivori. Jorje Bergoglio attained his primary education from Wilfrid Baron de los Santos Angeles, he then graduated as a chemical technician. After graduation he worked as a chemical technician. However, he did not continue the same for long as he realized his true calling and ventured into the priesthood.
Jorje Bergoglio was ordained a priest in December 1969. His mother did not support his decision to become a priest but she learned to accept the situation. Many years later in 2001 he was elevated to cardinal by Pope John Paul II, named the cardinal-priest of St. Robert Bellarmino. Four years later he was made the president of the Bishops' Conference of Argentina and held that post until 2011. On 13th March 2013, at the age of 76, Jorge Bergoglio was named the 266th pope of the Roman Catholic Church—becoming the first citizen from the Americas, the first non-European to be named Pope.
Pope Francis is different to other Popes because he has broken with tradition and he is admired for his humility and simplicity. Not everyone would decline a luxurious papal accommodation but choose to live in a simple two-room apartment and choose to take the bus instead of driving in a limited edition, exquisite car! The Pope's way of living is very simplistic and children should aspire to live like him. If all children and young people looked up to the Pope as their icon they would begin to develop more gratitude, contentment and kindness. He teaches children that they can still be successful, without materialistic items. Most celebrities teach young people a contradictory lesson. They implant ideas into young people's heads that suggest that owning the latest trends and having a bounteous amount of followers on Instagram are the most important things in life.
In his papacy, Pope Francis has achieved many things such as writing a letter to the world called Laudato Si', about caring for the earth. He has also written many books, two of them being "On Heaven and Earth" and "The Name of God Is Mercy". One of Pope Francis' wise quotes is "That Christians inspired by the word of God, may serve the poor and suffering". He has always been very fond of caring for the poor. Children should admire the Pope for the things he does and desire to be like him in their lives because then they will acquire qualities such as kindness and generosity.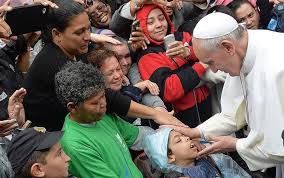 St Peter was the first Pope of the Church, appointed by Jesus himself. Through apostolic succession, the Pope was chosen by Jesus. Apostolic Succession is like a relay race where the baton is being passed from Pope to Pope. In Matthew 16:18-19 Jesus appoints Simon Peter as the first Pope of the church. Also in 1 Peter 2:25 it says the apostles, by the power of the Spirit, share Christ's ministry and authority. Imagine a world without our Pope, he sets all of us a great example of how to live a good life. Without him many of us would be clueless!
In conclusion, the Pope should be a role model for all children because he is a humble, modest person. He also is very caring as he made helping the poor his number one priority. The Pope is an example of God in our community. Most celebrities, such as the Kardashians, do not provide children and young people with the best examples as their lifestyles do not reflect their true selves. Pope Francis teaches children that they can still live fulfilled, lives without materialistic wealth.'
Categories:
Faith Life
Junior
Nursery
Prep
Priory Post
Senior
Sixth Form
Whole School